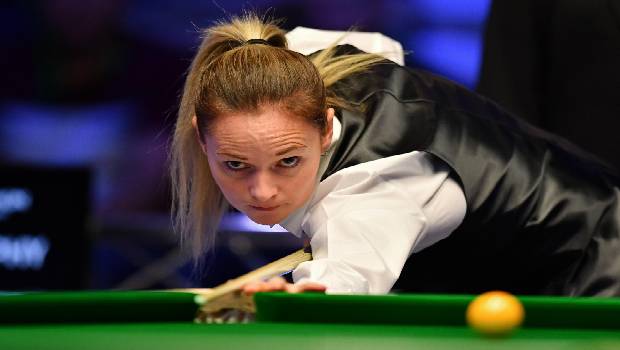 Reanne Evans believes the snooker Shoot Out is the ideal stage for women to enter the game as professionals. Twelve-time women's title holder Evans created history in the Shoot Out in 2019 as the first-ever woman to contend on TV in the last stages of a world ranking tournament.
She lost to Jimmy White in her opening match of the competition and was additionally beaten in the first round a year ago by Ian Burns. Evans will play at the Shoot Out this year alongside Rebecca Kenna, who will make her debut as a professional.
Evans told Eurosport snooker is a brilliant stage for women to get involved. She added saying there is pressure with the format but it's a good platform for women to start as there are not any expectations because anybody can twitch any ball.
The Shoot Out format sees players compete in one-frame matches that last 10 minutes and with a shot clock that limits players to 15 seconds per shot for the first five minutes of each frame, and 10 seconds for the last five minutes.
On Thursday the tournament kick starts and will be hosted at Milton Keynes this year because of the global pandemic.
Evans said she's excited just to play a bit of snooker. She feels it's going to be different without the crowd but still looks forward to it. Reflecting on her debut in the event in 2019, she added that she was excited when received the call and didn't know what to expect from the crowd.
She thinks playing Jimmy helped her because she has known him for years and he has given her advice over the years, but she was still so nervous as it is tough to be prepared for it.
However, last year she felt a bit more comfortable even though she didn't really get a shot. No player ranked in the top 16 in the world has yet to win the tournament in 11 seasons. And with Judd Trump, Neil Robertson and Ronnie O'Sullivan not involved this year, it looks as wide open as ever as 128 players battle for the £50,000 winner's prize.
Talking about the prize money she said anyone in the draw can win, it's just pot luck. She plans to go out and enjoy it and hopefully pocket some balls over the course.