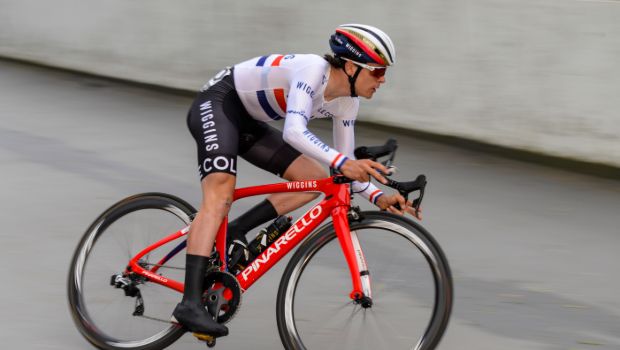 Tom Pidcock (Ineos Grenadiers) defeated Eli Iserbyt (Pauwels Sauzen-Bingoal) in a long-race battle to take his second elite cyclo-cross World Cup victory of the season in Hulst. Wout Van Aert's (Jumbo-Visma) winning streak ended after a first-lap chain problem. This mechanical problem forced him to battle back throughout the race. However, Aert remained positive and raced to finish fourth from 40th position.
Olympic mountain bike champion Pidcock rode with excellent speed and used his technical skills to pull out a slight gap on World Cup leader Iserbyt in the opening half of the race. However, Iserbyt gave a good fight and looked relentless in his chase. He kept his British rival at around eight seconds. The pair held onto their narrow gap and made little mistakes on the course.
Both the riders were separated by just seconds heading into the final lap. Despite losing some time due to a mechanical problem, Pidcock held his pace and went on to win his second World Cup victory of the season. Iserbyt secured the overall World Cup series.
After winning the cyclo-cross race, Pidcock said that a last-lap mechanical problem meant he had to be cautious and feared that Iserbyt would catch him. Van Aert won all seven of his previous cyclo-cross outings but could not battle back from his first lap mechanical problem.
Olympic champion Pidcock produced a devastating pace at the front. Iserbyt responded well and rode brilliantly to match Pidcock's pace. By the end of the third lap, Van Aert moved back into the 17th spot and was 44 seconds behind the leaders at the end of the third lap.
Pidcock launched an attack through the flat pit section after sensing a weakness in his Belgian rival. Van der Haar was chasing alone in third. Despite the pace, Pidcock was matched by Iserbyt who remained just four seconds behind the leader. Van der Haar was 20 seconds back.
Pidcock slightly extended his gap to nine seconds in the penultimate lap. Van der Haar was in a comfortable third place with a gap of 32 seconds back to Toon Aerts. Iserbyt responded quickly and continued to maintain pressure on Pidcock. Taking the last lap bell Pidcock continued to ride with the gained momentum and had an advantage of eight seconds to celebrate the victory over Iserbyt.
Though finishing second, Iserbyt sealed the overall World Cup series victory with an unassailable lead of 95 points with just two rounds remaining. Battle for the World Cup will continue with the penultimate round at Flamanville in France on 16th January.