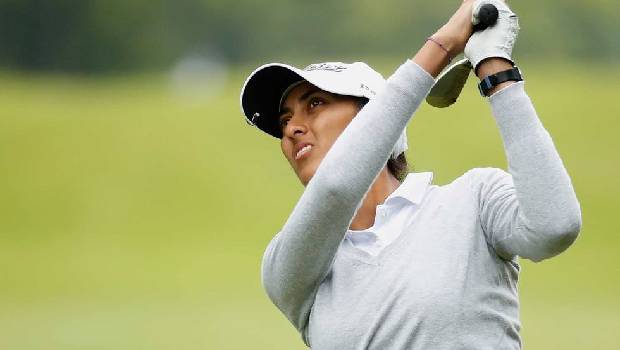 In a first in Indian women's golf, three leading players of the country Aditi Ashok, Diksha Dagar and Tvesa Malik will feature in the Ladies Scottish Open, starting Thursday. The Ladies Scottish Open is a premier event in the Ladies European Tour. It has been hosted by LPGA since 2017. While this is the fourth time the two Tours are coming together.
Diksha will play with Stephanie Kyriacou and Yu Liu early in the morning while Aditi will play with Scottish star Carly Booth and South African Lee-Ann Pace later on. While Tvesa has been drafted to play against Yealimi Noh and Emily Kristine Pedersen. Diksha and Tvesa arrived in the UK on Friday and traveled to Edinburgh on Monday. Aditi and her mother arrived at the venue on Monday as Aditi had a good look at the course.
Naren Dagar, Diksha's father and caddie said they were tested at the airport as well by the Tour upon arriving into Scotland. Diksha recounted their travel experience as different since several people in India helped them with securing documentation and permission to travel to the Tour. She acknowledged having some tense moments, but that was due to the situation caused by the pandemic. She thanked the officials back home for their help during this travel.
Diksha, who won the Women's South African Open last year, added that she's been waiting for this for long. She has been practicing in India while following all necessary safety measures since the COVID-19 outbreak. They wore PPE suits and took all measures such as wearing masks and maintaining distance during travel.
The Ladies European Tour set to return with the Scottish Open, the LPGA has already hosted two events in the United States. The LPGA Tour is scheduled to be hosted in Europe after the LPGA Drive On Championship and the Marathon LPGA Classic. Those two tournaments provided back-to-back wins for Danielle Kang as the LPGA returned after the COVID-19 break. With these two wins Kang's tally of wins in the past 10 months have raised to 3.
As part of the two consecutive events in Scotland, The Scottish Open is the first to be played. The contest will be followed by next week's AIG Women's Open at Royal Troon this event is the final opportunity to qualify for the AIG Women's Open.