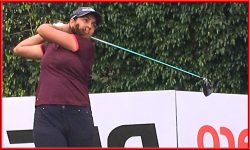 WGAI Release – 12 September 2018: It was tough going for the professionals at the challenging Gary Player course at the DLF Golf and Country Club, as none of the players broke par in the first round of the 14th leg of Hero Women's Pro Golf Tour on Wednesday.
The event is being played on the Gary Player layout, which will be the same that is to be used for the Hero Women's Indian Open later this year. For the players, this is a great chance to try and get used to the course over these three days before the European Tour event.
Millie Saroha, who holed her second shot on the Par-4 seventh for an eagle-two, carded 77 as did Gaurika Bishnoi, to share the lead. They were one shot ahead of Afshan Fatima who won last week at Greater Noida. Afshan may well have been in the lead but for a triple bogey eight on par-5 15th. Tvesa Malik (79) was fourth, while Amandeep Drall and amateur Sifat Sagoo, who is playing at her home course, and another amateur Rhea Saravanan shot 80 each to be Tied-5th.
Sonam Chugh was eighth, while Neha Tripathi and Khushi Khanijau were Tied-9th. Astha Madan in her maiden pro event carded 85.
Millie had the only eagle of the day and she also had another birdie on the Par-5 eighth, while she dropped six bogeys and a double in her 77. Gaurika had two doubles, two bogeys and just one birdie in her round of 77.
Afshan Fatima began with three bogeys but birdied both ninth and 18th, while amateur Sifat started the day with three doubles, but made up somewhat with three birdies though she dropped two more bogeys and another double.
In the second round, Anisha Padukone, Astha Madan and Siddhi Kapoor will start the action in the first group, while Gursimar Badwal, Mehar Atwal and Khushi Khanijau are in the next 3-ball. Neha Tripathi, Sonam Chugh and amateur Rhea Saravanan are in the third group, while the other amateur Sifat Sagoo, Amandeep Drall and Tvesa Malik play in the penultimate group. The final threesome will comprise Afshan Fatima, Gaurika Bishnoi and Millie Saroha.