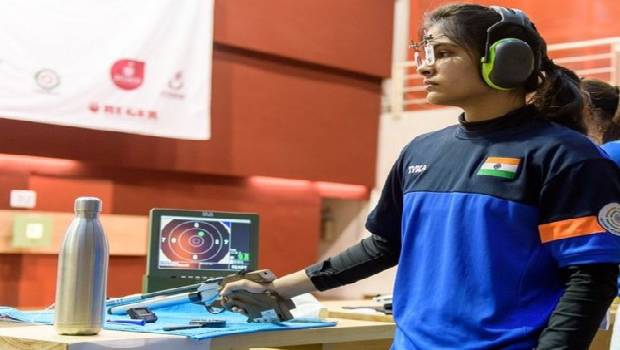 Manu Bhaker, the Indian shooter who was to represent Olympic 2020, was all set to perform but only for the event to get rescheduled to 2021. As with the corona controlling the time of events, the sports calendar has entirely shifted due to the pandemic crisis faced by the people around the globe. On the positive note, like now quarantine period where the cities and countries are under lockdown, it has brought space for the players to rest and plan for their particular major event in every field.
Bhaker, who was to participate in two ISSF events under 10 meters air pistol had cancelled and the COVID-19, has also removed the Olympics, now left with hope the teenage shooter shared her lockdown schedule at the interview. Bhaker is not new to the big podium as the shooter has won gold in National, Asian, and World Cup events, saying this the shooter practiced anticipating the first big life-changing event. When the Olympics question popped, Bhaker said, the decision was understandable and appreciated the rescheduling from July 23rd to August 8th, 2021 rather than cancelling the events, because athletes who had practiced for years would be disappointed.
Other than these, Bhaker can spend quality time with the family by playing 'Luka chhupi' at times, then the shooter said about routine, which keeps Bhaker occupied in the day during the 21 days of lockdown. Fitness and training act as a part of day's rituals, Bhaker has a punching bag, boxing gloves, tennis racquet, etc. yet the pistol shooter missed camp training which was a better place to aim and shoot. Then Bhaker introduced the spot, where the set-up is apt for the manual shooting range, the teenage shooter said before the built space was for a gallery but later remodelled by her father to help practice when Bhaker is at home. Bhaker practiced 4 hours a day, and that the lockdown has brought some of the lost practices to the light again.
Bhaker had an interest in sketching a year ago and began to learn painting now during the lockdown as the shooter has extra time pocketed, with the school and practices the shooter's concentration overlapped with the schedule. Bhaker felt that people should stop trying to return, and must find a way to stay safe from the disease.