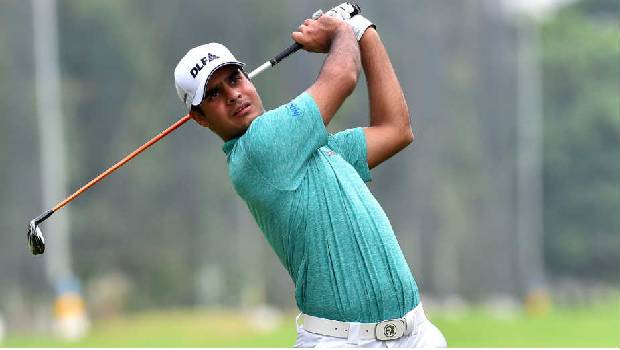 Shubhankar Sharma put on a solid show in the final round of the Scottish Open golf championship on Sunday to end the event tied-26th and record his best finish on the European Tour in 2020.
The Indian golfer carded four-under 280 on aggregate (70-67-76-67) at the Renaissance Club in North Berwick, Scotland and bettered his tied-44th from the Portugal Masters that took place the previous month.
The 24-year-old golfer due to the bad weather dropped down to a T-47 place but commendably climbed back 19 places during the final round.
Whereas Englishman Aaron Rai clinched his second European Tour title successfully. Earlier he faced and won against fellow compatriot Tommy Fleetwood in the playoff. At the end of the regulation rounds both the golfers finished at the top after carding an 11-under 273.
Sharma started the final round and scored four birdies at the break. This run consisted of two consecutive birdies on the 12th and 13th holes and at the 17th and 18th holes. Sharma dropped a shot with a bogey on the turn, but he came back strong by making a birdie on the 7th as he finished the round four-under 67.
He made the cut by climbing to tied-13 but the third round due to rain saw him slip which he described it as the most challenging conditions he has ever played. Sharma with three birdies and three bogeys was on even-par up until 12th hole before the weather playing a spoilsport on his game. Sharma came back to score bogeys consecutively on 13th, 14th, 15th and 16th holes and he only dropped five shots in just four holes.
Shubhankar Sharma later said it was difficult for him to grip the clubs at one point due to the rainfall. He added that they were soaked completely in the rain and had to change their dress once reaching the hotel.
Throughout the tournament, it was the only time Shubhankar faltered in his performance. His one-under 70 during the opening round is his best start since this February. His previous best start was when he scored a two-under 68 at the Saudi International. During the second round of the Scottish Open, he carded an eagle and four birdies in a row. Shubhankar's fellow countryman Gaganjeet Bhullar failed to make the cut for the weekend at the Scottish Open.