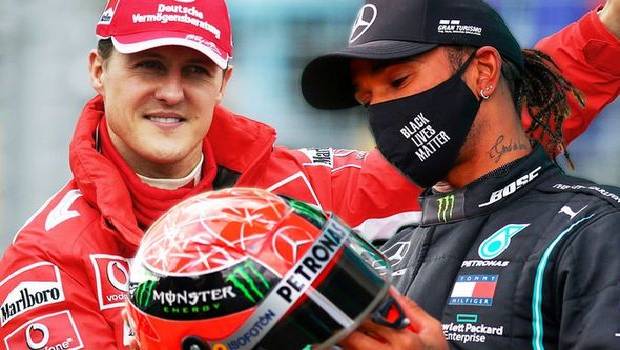 The six-time champion won his 91st Grand Prix race at the Nurburgring circuit on Sunday. Lewis Hamilton after a two-week break rested his Russian Grand Prix troubles behind him with a controlled win. Ever since 2013 this is the first time a Grand Prix event has been hosted at the Nurburgring circuit.
Lewis Hamilton with the win at the Eifel Grand Prix has now equaled Michael Schumacher's all-time record of 91 Formula 1 wins. Michael Schumacher previously has won five times in Nurburgring which is also his home circuit. This win also saw him extend his points lead as he gets closer to win his seventh world championship.
Returning from a Grand Prix win his teammate Valtteri Bottas started the race from pole position but had to retire due to an issue with the engine. This is the first retirement of the season for Bottas which is a huge hit to his title shot. This is Hamilton's seventh win of this season and is now 69 points ahead of his Finnish teammate in the drivers standings as six rounds remain.
Red Bull's driver Max Verstappen came in second position with Renault's Daniel Ricciardo at third. This is Ricciardo's first podium finish for Renault ever since he made this feat at 2018 when he drove for Red Bull before making the move to his current team. Max Verstappen also grabbed an extra time for putting on board the fastest lap.
Schumacher's son Mick presented Hamilton with one of his father's red helmets to commemorate his historic win and wished behalf of all of them. Mick Schumacher who is expected to win the drivers title in Formula 2 this year will most probably racing in Formula 1 next season. He was scheduled to drive during the first practice session for the Alpha Romeo team but since the session was called off due to bad weather, he was unable to do so.
Before stepping on to the podium Hamilton thanked everyone and felt honoured as he matched Schumacher's record at the circuit which is closest to the German legend's boyhood.
Hamilton lost for words then added never in his dream he ever imagined of such feat. He said that he certainly never thought to be anywhere near to Schumacher in terms of record.