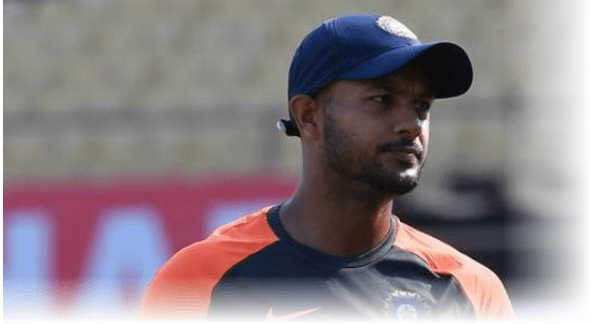 Mayank Agarwal has earned his maiden Test cap the 27 year old Karnataka opener was picked into the team mid-way during the ongoing Test series as replacement for the injured Prithiv Shaw. His selection was made at the expense of his good friend and state player KL Rahul.
Both of them have grown up paying cricket together as well as having opened the U-19 World Cup 2010 when Rahul's international cricket took off.
Rahul can surely lend moral support to Mayank as he takes off on his childhood dream. R Muralidhar who is Mayank's personal coach strongly believes that he is well equipped to take on the best of the bowlers as an opener.
Having this to say, "I've spoken to Mayank and he says he has been batting well in the nets. There is a lot of positive energy he surrounds himself with. There will be some nervousness but it won't affect his game."
"That's because he has waited too long for this opportunity and that has prepared him. We thought he would debut against West Indies at home but it was not to be. He went back and played for India 'A' and got some runs."
Currently coaching the U-23 Nagaland team Muralidhar, said "Mayank has nothing to lose and everything to gain in this series. He will be focused on making big runs because that's what India need." The other coach who would be watching closely would be J Arun Kumar who himself was a Ranji Trophy winning coach. Both Mayank and Rahul had received a lot of backing from him when he was the state coach for five years. He also had this to say," He's worked extremely hard to get there and is eager to go out there and showcase his cricket. He understands the importance of this series because you are playing against the best team and runs against Australia in Australia are always valued more than what you score against other oppositions."