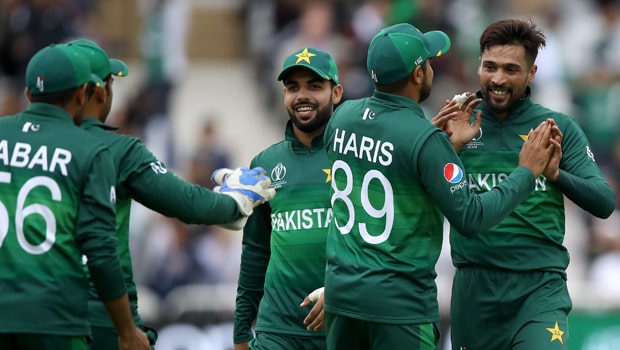 The Champions Trophy Final of 2017 was the last time India and Pakistan locked horns in an ICC tournament. Mohammad Amir ran through India's top order, consisting of ODI batting stalwarts like Rohit Sharma, Shikhar Dhawan and Virat Kohli, to end India's hopes of chasing down a daunting target of 339 set by Pakistan. They went on to win the match comfortably and Amir showed that the formula is quite simple, get rid of India's top order and any team stands a good chance of winning the match.
Despite their exploits in recent years, India's top order has always been vulnerable to conditions which aid seam and swing. So, a quality pace attack will always have the Indian batsmen in trouble in such conditions. However, they have evolved a lot since that disappointing defeat in the final. Rohit's mature innings of an unbeaten 122 in tough batting conditions in India's World Cup 2019 opener against South Africa showed how far he has come.
Now, as the two arch-rivals meet again for the seventh time in World Cup, the fate of the match will be decided by the outcome of the battle between India's top order and Pakistan's pace attack once again.
Although Shikhar Dhawan, one of the key figures of India's top order, will miss out on this match with a thumb injury, the battle is still going to be intense between Indian batsmen like Rohit Sharma, KL Rahul and Virat Kohli, and Pakistani bowlers like Mohammad Amir, Shaheen Afridi and Wahab Riaz fighting it out in the middle.
Rahul is yet to face the two left-arm pacers in ODIs but Rohit and Kohli know what to expect from them. Amir has already shown how good a form he is in this tournament with his five-wicket haul against Australia in the previous match. Riaz, on the other hand, has chipped in with crucial wickets too. He had registered a five-wicket haul against India in the 2015 World Cup, so India are fully aware of his abilities. In fact, Kohli and Rohit have faced the two bowlers quite a lot in the past and here is how their statistics look against them:
vs Mohammad Amir
Rohit: 62 balls, 38 runs, 1 dismissal
Kohli: 24 balls, 20 runs, 1 dismissal
vs Wahab Riaz
Rohit: 18 balls, 23 runs, 0 dismissals
Kohli: 72 balls, 89 runs, 1 dismissal
So, the Champions Trophy Final of 2017 is the only instance when Amir dismissed the duo. Although, Kohli hasn't faced him after that, Rohit did face him during the Asia Cup of 2018 and successfully fetched 20 runs off his 21 deliveries without getting dismissed even once. As far as their match-up against Riaz is concerned, Rohit is yet to lose his wicket to him and strikes at a rate of over 100 on his deliveries. Kohli, on the other hand, has faced a significant number of 72 deliveries from him and has been dismissed only once, that too, way back in 2011 and Riaz is yet to get the better of the Indian skipper since then. Moreover, Kohli has an excellent strike-rate of 123.61 against the left-arm pacer.
If we look at Kohli and Rohit's overall record against Pakistan, they have a healthy batting average of 45.90 and 44.61 against them, whereas Amir and Riaz have dismal overall bowling averages of 42.80 and 37.55 against India. So, all these statistics defy the common notion that the Indian top order struggles against the Pakistani pace attack. Now, it's up to them to show that the failure of Champions Trophy 2017 final was a blip. And as far as the Pakistani pacers are concerned, they would be eager to show that they have the capability to perform consistently against Indian batsmen.
Written by: Prasenjit Dey