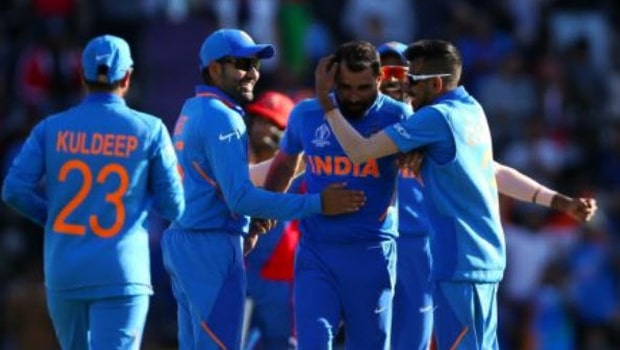 Mohammad Shami didn't start as the first choice seamer for India in World Cup 2019. However, an injury to Bhuvneshwar Kumar paved the way for his entry into the Indian XI in the match against Afghanistan. Shami's outing was expected to be a short bout, for Bhuvneshwar was supposed to recover within a space of just two matches. The wily seamer had already made his mark in the tournament with spells of 2/44 and 3/50 against teams like South Africa and Australia respectively. So, it was more than certain that he was going to replace Shami in the lineup once he recovers, unless Shami comes up with something miraculous and spellbinding.
And guess what?
Shami did exactly that.
A spell of 9.5-1-40-4 against Afghanistan, which included a match-winning hat-trick as well, was followed up by an equally good spell of 6.2-0-16-4 against West Indies, and with Bhuvneshwar back into training now, the Indian think-tank will have a happy headache to deal with for the next match against England. Both bowlers have put their best foot forward in the tournament but the kind of impact Shami has made in the last two matches, both with the new and old ball, can't be overlooked at all.
In fact, Shami is the highest wicket-taker among Indian seamers ever since he made his comeback into the ODI side last year. His 30 wickets have come in 15 matches at an excellent average of 23.26 and an equally good strike-rate of 26.70. Bhuvneshwar is second with
27 wickets in one match more than Shami. Bumrah is next with 22 wickets in 13 matches and has an average of 23.22, which is better than both of Shami and Bhuvneshwar's (23.62). However, if only strike-rate is considered, Shami's 26.7 is the best among Indian seamers. Although Bhuvneshwar comes close with 27.20, Bumrah is a little behind striking at an interval of every 31.80 deliveries.
If performances in England are considered, it will be observed that Shami has 16 wickets at an astonishing average of 13.00 and an equally mind-boggling strike-rate of 18.2. Bhuvneshwar, on the other hand, has 23 wickets at an average of 26.91 and strike-rate of 36, both figures almost double than that of Shami's. So, statistics suggest that Shami has been a much better bowler than Bhuvneshwar in these conditions, even though the latter's numbers are quite decent as well.
Moreover, nobody can deny the fact that Shami has always been a strike-force with the ball. He holds the record for being the fastest bowler to 100 ODI wickets, having achieved the feat in just 56 matches. Bhuvneshwar, on the other hand, holds the unwanted record of being the slowest specialist Indian seamer to 100 ODI wickets as he took 96 ODIs, 40 more than Shami, to reach the landmark.
So, the Indian think-tank should keep these things in mind before going ahead with either of the two in such a crucial encounter against England. Bhuvneshwar has often failed to provide the initial impetus with the ball but Shami has done that consistently over these two matches. Moreover, it wouldn't be wise to swap an in-form bowler with someone who has just recovered from injury. Hence, Shami should be the choice India should go with in the upcoming matches.
Written by: Prasenjit Dey