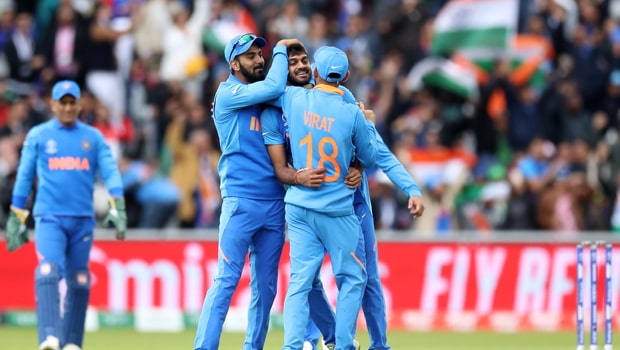 There was a lot of controversy when Vijay Shankar was included in India's World Cup 2019 squad ahead of Ambati Rayudu, someone who had been a regular part of the Indian team since 2018. Shankar's three-dimensional ability—a compact all-rounder and a superb fielder—was stated as the reason for which the selectors preferred him over Rayudu, who is a decent batsman but not capable of contributing with the ball. Even his fielding had been shoddy more often than not.
Such a major change on the basis of performances in just a couple of series ahead of the World Cup seemed unjustified to many people and a large faction of them, including Rayudu, mocked the selectors on social media for this decision.
Just Ordered a new set of 3d glasses to watch the world cup ??..

— Ambati Rayudu (@RayuduAmbati) April 16, 2019
However, four matches into India's World Cup campaign, Shankar has shown why the selectors knew better than anyone else with his performance in the very first opportunity he got to showcase his skills in the tournament. Shikhar Dhawan's injury opened up a place for him in the Indian XI and he cashed in fully on the opportunity with his all-round performance against arch-rivals Pakistan.
Firstly, he scored an unbeaten 15 off 15 deliveries to propel India's score to 336/5 after the exploits of Rohit Sharma and Virat Kohli earlier in the innings. And when India's lead paceman, Bhuvneshwar Kumar, had to walk off the field in the fifth over of the Pakistani innings with tightness in his left hamstring, Shankar came into the attack to complete the over with his seam-ups. And to every Indian fan's delight, he struck on the very first ball he bowled with a delivery that swung in and trapped Imam-ul-Haq leg before in front of the stumps.
He kept bowling disciplined line and lengths and the help from the conditions made him a tricky customer to face for the batsmen. He struck again in the 35th over of the innings when he cleaned up the Pakistani skipper, Sarfaraz Ahmed.
The quality of his all-round skills had been seen earlier in the year as well when his 41-ball knock of 46 runs and a bowling spell of 1.3-0-15-2 had helped India to register a thrilling 8-run victory over Australia at Nagpur.
With Bhuvneshwar Kumar now ruled out of the next two matches and Dhawan already set to miss a significant number of matches in this tournament, Shankar's role is going to be very crucial for India. He will be the No. 4 in case India lose early wickets, otherwise he will perform the job of a finisher. With the ball, India would expect him to bowl at least five tight overs every match and the seaming conditions in England will turn him into a wicket-taking option as well. So, he is certainly not a player to be underestimated. In fact, he is one of the main Indian players to watch out for in the remainder of the tournament.
Written by: Prasenjit Dey