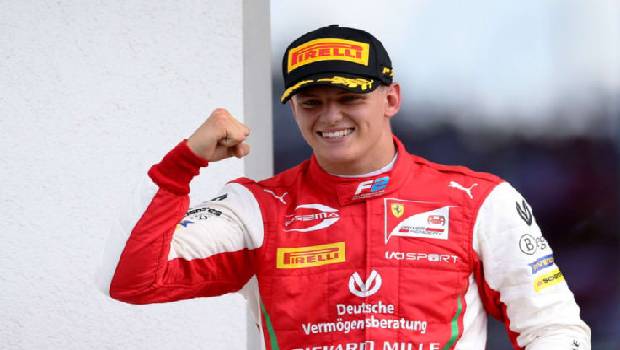 One name that is rumored to enter Formula 1 next season is Mick Schumacher. Heavy attention from media as well from prominent names of F1 has spoken about the young Ferrari academy driver making his way into F1.
Schumacher, however, feels he is ready for the top division of racing. He also believes that the progress that he had shown in the other division during the last few years has prepared him in dealing with the pressures.
Mick Schumacher in a recent interview said that over the past few years he has constantly trained hard and pursued the goal of shaping himself as a driver and is very satisfied with his development and the progress in the sport of racing.
Mick currently racing with Prema Powerteam is in the lead with 191 points in the F2 championship standings.
Mick added the performance that he has shown in the F2 has made him definitely feel ready for Formula 1. he is also very pleased that the results are precise and that his team and he have achieved good results consistently this season.
Earlier the Junior Schumacher was originally scheduled to make his free practice debut in F1 at Nürburgring. He was assigned to take the wheel of the Alfa Romeo C39.
However, due to terrible weather, the first session got canceled on that day. However, Ferrari boss Mattia Binotto had stated in his interview they were planning to make it in Abu Dhabi.
Midway through the season, Schumacher was linked to making a move to Alfa Romeo or Haas. But as per recent developments, it ruled out Alfa Romeo as an option.
Alfa Romeo decided to retain its existing combination of Kimi Raikkonen and Antonio Giovinazzi for 2021. This decision of Alfa Romeo now means Mick has only one option in the form of Haas F1 team currently.
The America-based racing team principal Gene Haas agreed in a statement that it would be a risk for the F1 team to take on two rookies for their 2021 lineup. But this statement does not confirm whether mick would have a seat or not yet.
With four more races to go for the time being Mick's focus will lie on attaining the F2 title and secure his super-license which is required to enter into Formula