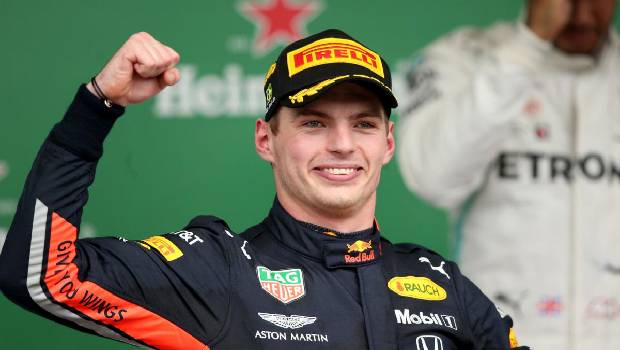 Red Bull's driver Max Verstappen gave his team their first victory at Silverstone since 2012 on Sunday during the 70th Anniversary Grand Prix. This was Max Verstappen's first win in the year of 2020 and his 9th career win. This win was made possible from some great decisions that were made by the Red Bull team which made it possible for Verstappen to beat both the Mercedes automobiles.
In an interview after the race, Verstappen credited his team for the win since it was their decision to run on hard tires for the race. Whereas Verstappen's Mercedes rivals Hamilton and Bottas both drove on medium tires. He also commented that the Red Bull's were perfect in every aspect and did all the right moves.
Verstappen finished the race by 11.326 seconds ahead of defending champion and leaderboard topper Lewis Hamilton. Mercedes drivers finished at podium positions with Hamilton taking the 2nd position and Bottas the 3rd. The Finn driver topped the qualifying round on Saturday which gave him pole start position the following day. Hamilton was able to secure the 2nd position only at the late stage of the race when he overtook his teammate Bottas. Speaking about the tire issues Verstappen said he did not expect such issues would arise. However, after the initial stage, he felt his team adapted to the situation we'll and came on top.
Even both the Mercedes drivers faced such similar issues but unfortunately, they were not able to rectify the issue. In the end, the flaw with the tires throughout the race cost Mercedes a much possible consecutive win at Silverstone. Hamilton said that it was an enormous test for everyone and he congratulated Red Bull for dealing with it the best. He felt it was certainly sudden to have such blisters on the tires after last week's experience. With this podium finish Hamilton equaled Schumacher's career record of 155 podium finishes. He had a puncture in his front left wheel during the last lap while he was leading the race. But miraculously he managed to hold the lead and win the race with the punctured tire.
After starting the race from pole position Bottas was baffled to finish third. He felt like his team was sleeping at certain points in the race and that his strategy was a long way from perfect.