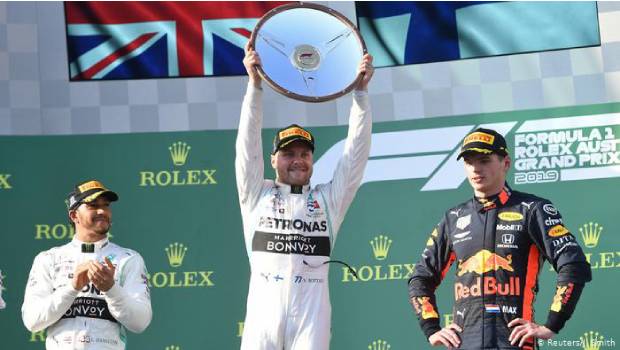 All set for the Formula 1 race at the Rolex Australian Grand Prix 2020, which is to begin from 13th March to 15th March, in the Albert Park Circuit at Melbourne. The circuit has a travel distance of 5.303 kilometers, the drivers have to race around 58 laps and must cross the chequered black and white flag by coming first. The racers are to ride under the motor banners are Mercedes, Ferrari, Red Bull Racing, McLaren, Renault, Scuderia AlphaTauri, Racing Point, Alfa Romeo Racing, Haas F1 Team, and Williams. Each motor banner has a pair of riders to race in the Australian Grand Prix 2020.
Last year in the Australian Grand Prix, the Mercedes driver and Finish racer Valtteri Bottas, speeded first with 1:25:27 on the timesheet another Mercedes driver Lewis Hamilton, came second in +20.886 seconds and Max Verstappen from Red Bull Racing ranked third with +22.520 seconds. Ferrari known as Scuderia Ferrari Mission Winnow has Sebastian Vettel, and Charles Leclerc as their drivers for the banner, in 2019 Ferrari won the Singapore Grand Prix at Marina Bay Street Circuit by Vettel and the 2nd was also secured by the Ferrari's Leclerc.
Mattia Binotto, the Italian Ferrari Chief said, despite being a tough year for Italy and the neighbouring countries, by being a representative in the international sports the Chief Binotto wants, to try and take people's mind-off from the health crisis and to entertain the crowd for a while with race. Australia currently accounts for 3 deaths and 100 COVID-19 cases, Andrew Westacott, the organiser of the Australian GP, had shown green signal to proceed with the race. Recently, Australia hosted Women's final T20 cricket match, between the home players and India, and the Australian Football League is to begin next week of March 2020.
Ferrari enters the season, with a new version for the Australian GP with SF1000 car, the design differs from the previous model SF90 car. Binotto about the Formula 1 calendar said that, with the tough competition, the season test's the car's performance, operation, and reliability on various races across this year and then would know one's improvement. Vettel, the Ferrari, racer said that Albert Circuit would be a technical challenge when racing, and the racer is aiming to score ahead Mercedes this time as well. Scuderia Ferrari won nine times, until 2018.