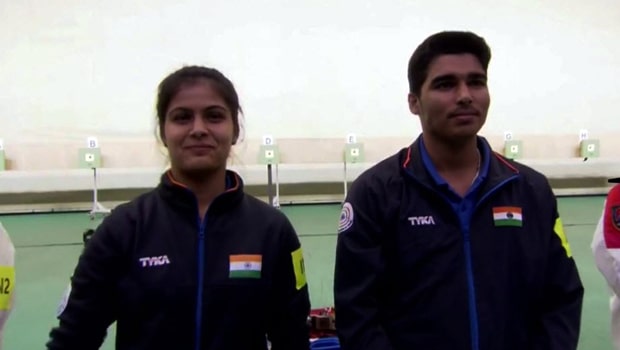 Things are looking bright for the pair of Manu Bhaker and Saurabh Chaudhary. The Indian shooters recently snatched their second World Cup gold medal when they emerged victorious in the 10m Air Pistol Mixed Team event at the ISSF World Cup, held in Beijing in April. They defeated the Chinese duo of Jiang Ranxin and Pang Wei 16-6, in what turned out to be a commanding display in the final.
Earlier in February, the duo was triumphant at the World Cup edition held in New Delhi, winning in equally emphatic fashion. What makes the achievement even more remarkable is the fact that both have only just scratched the surface of their potential. The teenagers have made a huge mark in the Indian shooting scene and will undoubtedly contest for more honours as the season progresses.
On the individual front, the results have been slightly contrasting. Manu suffered a disappointing campaign in Beijing, failing to make the final of the women's 10m Air Pistol. During the qualification round, she could only manage to finish in a disappointing 17th place. Similarly, at the World Cup in Delhi, she failed to qualify for the final after finishing 14th during the qualifying stages.
Saurabh, on the other hand, hit unprecedented heights in Beijing, winning the gold medal in his very first senior World Cup. All the more impressive was his world record score of 245.0 in the 10m Air Pistol and the Olympic quota, which came as a result of the victory. Despite the dominant victory, he remained humble and upbeat. "I knew I had a big lead but didn't bother about it. Just kept doing what I was doing. I never thought of the quota, just wanted to do my best. And never thought I will make a world record," he said after the event.
Despite already sealing their place in the World Cup finals in November, the young guns will be chasing more glory when they participate in the World Cup in Germany later this month. Manu's primary target will be to get back on track in the singles format and possibly seal an Olympic berth. Chaudhary will most certainly pursue more accolades and establish himself as one of the sports' finest. Whatever said and done, the Indian faithful will be watching with bated breath to see how their young shooters fare over the course of the year.
Written by: Nithin John