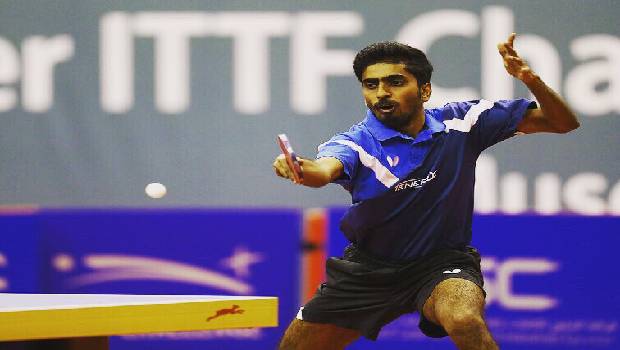 The Indian table tennis players will train with their German equals from January 13th to 20th in Dusseldorf for Olympics team qualifications. In men's category G Sathiyan, ranking 30 and, Sharath Kamal (34) have decent opportunities in qualifying as a team for the Tokyo Olympics 2020.
India is currently ranking 8th in world position and in need to enter the quarter-finals in the qualification event to get into the Olympics. Sathiyan Gnanasekaran said the pair have a very good chance of qualifying for the Olympics. Some tough teams expected are Croatia and Hong Kong but Sathiyan said they are confident and in good shape in excelling them.
The qualifying tournament for the Tokyo Olympics will be conducted in Gondomar, Portugal from 22nd – 26th January 2020. Sharath added the German training camp will be an opportunity to train with their top players and will also help in testing their abilities before the Tokyo Olympics 2020 games.
The 26-year old Sathiyan after 10 days of training in South Korea with the country's higher-ranked players returned to the Chennai camp in December. The camp brought various TT players to train for 10 days in the Nehru Stadium for doubles practice. Because identifying the correct partner for the Olympic qualification is crucial.
Sathiyan said that "Chennai camp focused on doubles training because the rule is those from the doubles pair can play only in one singles each. We then have to plan very carefully. That's why we are playing here with all possible pairs."
Sathiyan said the camp in South Korea was very useful and that he learned a lot from them. They were very supportive and the infrastructure of the National Training Centre was fantastic. The Chennai based TT player will be leaving for Germany to take part in the semi-finals of the German Cup for his team.
Sharath and Sathiyan earned bronze for Indian men's team and another bronze is added for the mixed doubles Sharath and Manika Batra, who finished as the top-four in the Asian games 2018. Manika has created history by winning the women's singles gold in the Games held in Gold Coast. She also achieved a 52nd position in the women's ranking in India's top-100 paddlers. India had also produced 8 medals, including 3 gold at the Commonwealth Game