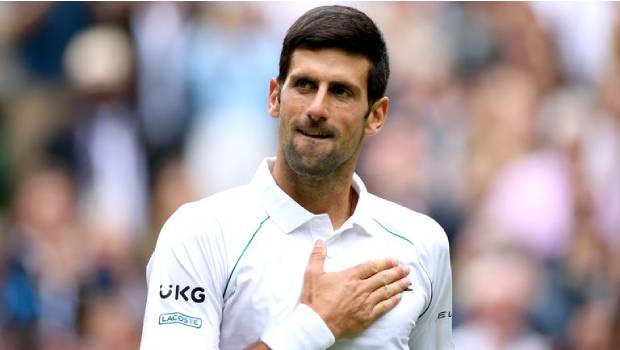 Novak Djokovic won his sixth Wimbledon title by defeating Matteo Berrettini in the final. Djikovic equaled the record of winning 20 Grand slam titles alongside Roger Federer and Rafael Nadal. The World's number one player, Novak Djokovic triumphed over the seventh seed Matteo Berrettini 6-7(4), 6-4, 6-4, 6-3 in a thrilling four-setter final.
Djokovic had beaten Berrettini in their two previous meetings. This was Djokovic's third straight win and also sixth victory at the All England Club, who played his 30th finals at the Slams. Nova Djokovic has nine Australian Opens, two Roland Garros titles, and three US Opens under his belt. The Serbian now has 85 career titles.
Djokovic has now completed the third leg of the Golden Slam, as he had already won the Australian Open and the French Open titles in 2021. No one in Men's singles has ever won Olympic gold and four slams in the same year. The only tennis player to ever achieve a Calendar Year Golden Slam was Steffi Graf in 1988.
If Djokovic wins the fourth title in the US Open in September 2021, he will turn out to be only the third man in history after Don Budge (1938) and Rod Laver (1962 and 1969) to finish the calendar Grand Slam.
Djokovic opened a 5-2 lead with early damage in the first set but the Italian Berrettini fought back very hard to drive a tiebreak which he secured to score with his fourth ace of the contest. Then Djokovic reacted spontaneously with a 4-0 lead in the second set and continued the tempo to level the match.
A single-serve break in the third set and the other two serve breaks in the fourth set were enough for Djokovic to finish off the contest. Djokovic clinched his place when Berrettini's backhand slice landed in the net. With his magnificent play, Djokovic silenced the raucous crowd at the Centre Court, who repeatedly shouted the Italian name.
The crowd expected Matteo Berrettini to win and be Italy's first men's Grand slam winner after Adriano Panatta, who won the French Open in 1976. But Berrettini lost the contest after battling it very hard.
Djokovic said the game was more than a battle. He added Berrettini is truly an Italian hammer and he felt it on his skin during the play. Djokovic thanked a very young fan for her support and encouragement by presenting her with a racquet. Djokovic's gesture was greeted with a loud cheer from the crowd.