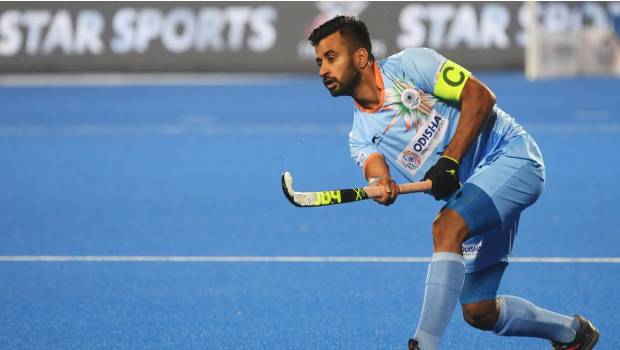 India has been tagged with the defending champions in Pool A list for the 2020 Olympics. Australia ranks 1 followed by Argentina, India and Spain are the top 4 contestants in The Tokyo Olympics men's hockey competition.
Indian men's hockey team left behind their displeasure of the 2018 World Cup and focused on the mark for 2019, which was to make into the qualification of Tokyo Olympics 2020. Now that the box has been checked, the eyes of the crew are set in retaining the top four positions in this Olympics competition.
The skipper of the Indian hockey team conveyed that with nine months to prepare for the Olympics game the team will focus on getting better in day by day process. Chief coach Graham Reid said that he could feel a solid improvement with the team and that they are concentrating to ensure the result.
Manpreet Singh and his teammates believe that they have a good chance of having one among the top four positions at the Tokyo Olympics and can pass them into the semi-final, finals as well in the competition. Having won consecutive Asian Champions Trophies in 2016 and 2018, the team is also aiming to claim their third title in a row at the bi-yearly tournament 2020.
The captain of the hockey team said winning the Trophy in hat-trick would be thrilling but he would like the team to journey step-by-step progress in achieving it. Manpreet said that the team's most important target was to enter into the Olympic qualification and also in maintaining India's fifth ranking in the world. In pursuing the team had improved together as a team.
Since 2019 Indian hockey team was full of a fresh start, beginning from the Australian coach Reid who took charge from April 20th, 2019. The Indian hockey skipper highlighted that during the transitions he witnessed youngsters playing to get into senior position who gave their potentials. This, in turn, gave him hope in achieving the top 4 positions at Olympics 2020 especially with FIH pro-league approaching before the Tokyo Olympics.
Manpreet Singh also said that this FIH Pro League will be a good practice for the players to stand against the international teams and 8 times Olympics champions in Tokyo. FIH Pro League games will begin from January to June 2020.