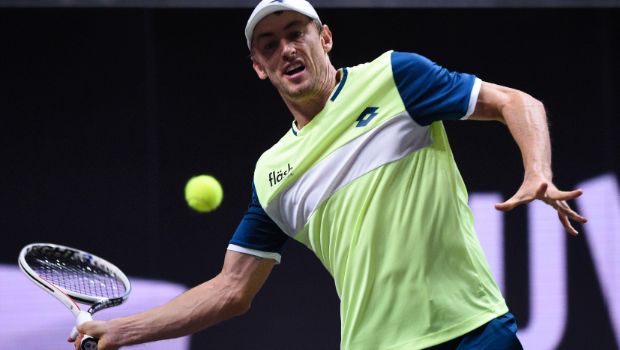 John Millman spoiled Dominic Thiem's return from injury by beating the Austrian 6-3, 3-6, 6-4 in the first round of the Serbia Open. John Millman prevented Dominic Thiem from making a winning return and edged past the Austrian in a three-set game to reach the second round. The former World No. 3 was competing in his first tour-level match since injuring his right wrist last June, subsequently undergoing surgery.
At the time, Thiem had been in the world's top five for more than three years. But, his inactivity since then sees him outside the top 50. However, the 28-year-old player showed glimpses of what he is capable of during the battle with Millman. Though Thiem lost the game, he had announced his comeback by battling it for 2 hours and 35 minutes against the Australian.
Thiem struck his backhand aggressively but was unable to produce his best level to finish on top. The Austrian player, who played at an ATP Challenger Tour event at the end of March, is a 17-time tour-level titlist. Thiem has experienced 10 of his victories on clay court.
Millman broke in the 10th game of the third set to advance to the next round. It was Millman's first win in four matches against Thiem. The 32-year-old Australian will be up against Serbia's Miomir Kecmanovic in the second round. The winner of this match is scheduled to face Novak Djokovic at the venue that bears his name, the Novak Tennis Centre, in the quarter-final.
After advancing to the second round, Millman said that he cannot claim this as one of his biggest wins because Thiem is just coming back from injury. The Australian admitted that he knows how hard that is to return strong from injury. Millman himself had come back from three surgeries.
Millman stated that it has been tough for Dominic but the game is better having him back, especially on the clay surface. The Australian player admitted that the game is going to be tough when the Austrian gets better with complete fitness.
Millman said that his Serbian opponent has chopped him when they played a practice match a few days ago. Millman stated that Kecmanovic is seeing the ball massive and has had a great six-week run. The Australian admitted that the match is going to be a tough one. At the same time, it will be exciting to play against young guys and test yourself against them.