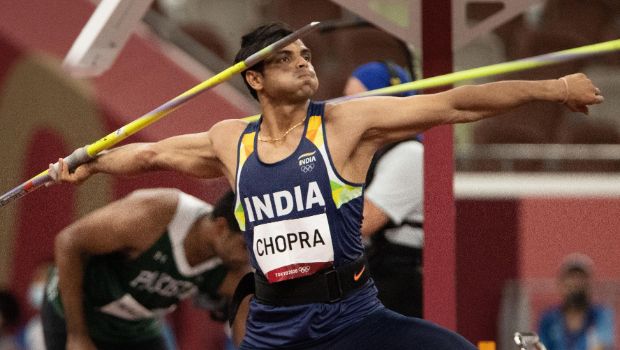 Neeraj Chopra made an impressive comeback by creating a new national record to claim his first-ever Diamond League medal, at the Stockholm games on Thursday night. Neeraj Chopra returned to Diamond League action for the first time in 4 years. Tokyo Olympics champion Neeraj Chopra nearly achieved his mission of throwing 90m as he launched the javelin to a stunning 89.94m distance in his first attempt in the Diamond League.
The 24-year-old Indian athlete was just 6 cm short of the 90m mark, the gold standard in the world of the javelin.  And his effort of the first throw eventually turned out to be his personal best.
Reigning world champion Anderson Peters of Ghana bagged the gold medal with a massive throw of 90.31m. Neeraj won the silver medal while Julian Weber of Germany claimed the bronze medal with a fifth-round throw of 89.08m. Tokyo Olympics silver medalist Jakub Vadlejch of the Czech Republic managed to finish fourth with a fine throw of 88.59m.
It was a fantastic series of 6 throws for the Indian, who finished in the top 3 in a Diamond League meet for the first time. His throws measured 89.94m, 84.37m, 87.46m, 84.77m, 86.67m, and 86.84m. Though Neeraj began the event with a new meet record, a new national record and his personal best, world champion Peters surpassed the mark in his third attempt.
Earlier, Neeraj participated in 3 Diamond League meets in 2017 and 4 in 2018 and managed to finish only 4th twice. Neeraj competed well and delivered his best in the Swedish capital as it was his biggest event ahead of the World Championships and the Commonwealth Games in July.
Neeraj has been in phenomenal form after returning to competitive action earlier this month. The Indian track athlete took enough time to work on his fitness and preparations to make a brilliant comeback. The star javelin thrower is peaking before the World Championships, starting July 15 in Eugene. He will also take part in the 2022 Commonwealth Games in Birmingham, which begins on July 28.
Earlier in June, Neeraj set a new national record at the Paavo Nurmi Games in Turku Finland with the best attempt of 89.30m. With that, he broke his previous best of 88.07m from 2021. After grabbing the silver medal, Neeraj admitted that he can throw 90m distance this year. Neeraj stated that he feels very good as he did his best.