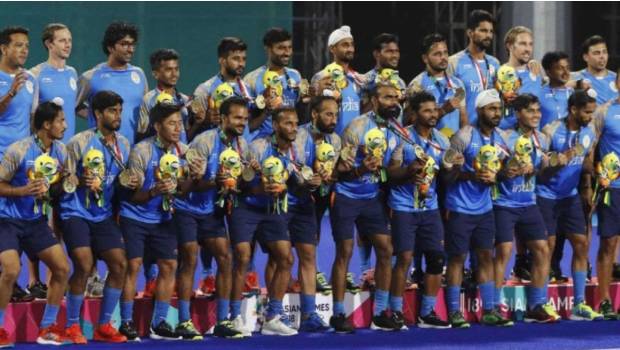 Hockey India conducts, and offers technical sessions, to the Umpires and Technical staffs around India which aims to spread the knowledge of the sport's Hockey. The pandemic crisis has evoked a lockdown in countries to control the spread of the viral flu, COVID-19, in the countries. The parasite has 14 days of lifespan before it completely knocks the immune system in the body, the host can protect oneself by sanitizing their hands, wearing a mask, social distancing, and staying indoors so that one could avoid acting as a transmitter in spreading the disease. Thus, leading to a visual communication video call, to help communicate with ease.
Previously, the Hockey India's coaches had connected with the players through calls and video calls updating about the schedule, training, and techniques the players had to focus and improve. Now Hockey India on Monday 20th April 2020 initiated a separate Watsapp group for the registered hockey Umpires and Technical Official to share and improve their knowledge, motivating others, and to discuss fitness techniques during this lockdown period. The split among the six Watsapp groups is as 3 for the hockey Umpires, and 3 for the hockey Technical team.
Both the group's superior representatives like Mr. Moghul Mohammed Muneer, Mr. H.S Sokhi, and Mr. Claudius de Sales are the members managing the Technical group and Mr. G Harsha Vardhan, Mr. G S Sangha, and Mr. Javed Shaikh are managing the Umpires group and are the supervisors. For the 6 days, a week schedule arrangement by the Managing Directors and Umpires is for the groups to discuss the FIH rules and regulations, and the queries within the protocols.
Mohd. Mushtaque Ahmad, the President of Hockey India, began with much appreciation for the idea. Then the President continued that, the umpires and technical staffs are equally important, as the players in the team, thus this initiative during the lockdown will help them analyse better about the future tournaments, and can learn the FIH regulations to help raise the standards of the game. The Hockey India statistics stating that the hockey association has over 1100 members across India are participating in the group, and has 70 Watsapp groups formed in total as per the members originated regions. The Hockey India had cancelled the recent FIH League Pro matches from commencing due to the viral spread of the coronavirus disease.