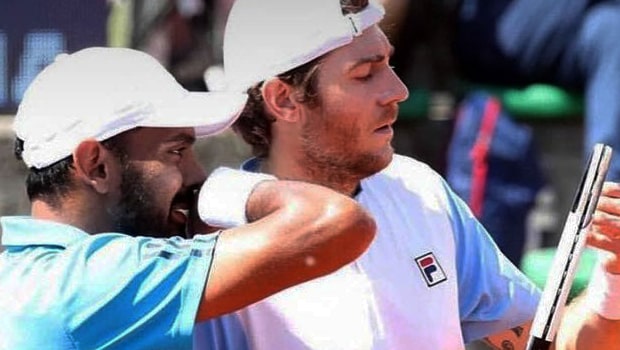 He might not have emerged victorious at the finals of the ATP 250 BMW Open in Munich, but things are definitely looking up for Divij Sharan. The 33-year-old has had a splendid few months of late and finds himself back on the mantle as India's No.1 doubles player.
Along with Brazilian partner Marcelo Demoliner, Sharan displayed impressive resilience and skill to get to the final in Munich. The pair had to endure three grueling matches, which ended in nerve-wracking tiebreakers to get to the final. Ultimately, fatigue and big-game nerves got the better of them as they were comfortably beaten by Frederik Nielsen and Tim Puetz.
Speaking to the Bridge after the final, Sharan said, "Tough match for us. It has been a great run for us to win the 3 matches and make it to the finals. It was my first clay court ATP 250 final. We had a good start to the match with a break-up early. However, they were able to break back and were returning really well, especially on my serves. I had also missed a few volleys which is usually my strength. It was a close match but credit to our opponents as they played really well."
Over the past two months, Sharan has been making a series of appearances, along with his Brazilian team-mate, at various ATP Tours across Europe. The Delhi-based player has ensured his participation in a number of competitive tournaments over the course of the season.
Not to be today. Still happy to make my first @ATP_Tour final on clay. Thank you @BMWOpenbyFWU for the amazing hospitality. See you next year.@mdemoliner89 @HasenkopfTennis? @IndianOilcl @head_tennis @Media_SAI pic.twitter.com/NoVoYEXtF5

— Divij Sharan (@divijsharan) May 5, 2019
Earlier in the year, Sharan was teaming up with Indian ace Rohan Bopanna. Their most significant achievement was the triumph at the Tata Open in Pune at the start of the year. They made relatively easy pickings of their final opponents Luke Bambridge and Jonny O'Mara, after suffering a series of grueling knockout matches. However, at the Australian Open, the doubles pair crashed out in the round of 64.
With the Roland Garros venture only a few days away, Sharan will be eager to get back on the clay court with Demoliner.
Written By: Nithin John