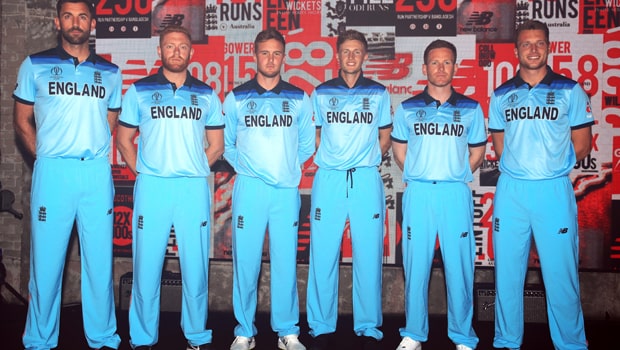 This match is going to be the Clash of the Titans, the battle between the top two ODI teams in the world! Even though by a small margin, England are ahead of second ranked India in the ICC rankings at No.1. So, they would be eager to establish their superiority in this match as well. Let's have a look at how they stack up as a team.
Venue: Edgbaston, Birmingham
Date: 30th June
Time: 3:00 PM IST
Squad: Eoin Morgan(c), Jason Roy, Alex Hales, Jonny Bairstow, Joe Root, Ben Stokes, Jos Buttler, Moeen Ali, Liam Dawson, Jofra Archer, M Wood, C Woakes, A Rashid, L Plunkett, T Curran
Team overview: England are the favourites to win the World Cup considering the strength of their squad. Moreover, the tournament is going to be played in their familiar home conditions and that gives them an added advantage, especially considering the fact that the last two World Cups have been won by the home teams.
The batting strength of the hosts is highly superior to that of any team playing in this tournament. Only India comes close to matching that strength owing to their top order which has players like Virat Kohli, Rohit Sharma, Shikhar Dhawan and MS Dhoni. However, England's batting lineup seems like it's never ending. Their top order consisting of the likes of Jason Roy, Jonny Bairstow and Joe Root is equally strong and destructive as their middle order consisting of Eoin Morgan, Jos Buttler, Ben Stokes and Moeen Ali. And their tail is probably the strongest facet of their team. The likes of Chris Woakes, Tom Curran, Liam Plunkett, Adil Rashid and Jofra Archer— most of whom have good batting value in Test cricket—form their long tail and it is something that leaves bowling teams very frustrated even after getting rid of England's batters.
The only chink in their team though is their bowling attack which leaks too many runs at times. But their batsmen make up for that most of the times and they are never nervous as a unit. Moreover, the addition of Jofra Archer to the squad will give the team some sort of stability in the bowling department. His pace combined with his death overs prowess will be crucial for England in the tournament. Tom Curran's wicket-taking ability adds a lot of value too. But it remains to be seen how many games he gets with a similar player like Liam Plunkett being England's first choice bowler. Overall, it can be said that they are going to be the team to beat this time.
Major threats to India: England's top seven batters are the biggest threat to India's chances in this match. They are the only batting unit capable of dealing with India's bowling attack. England even won the ODI series that they played against India at home last year and that tells a lot about the two teams.
Predicted outcome: England are expected to come out as winners in this match if previous encounters and overall strength of these two teams are considered.
Written by: Prasenjit Dey