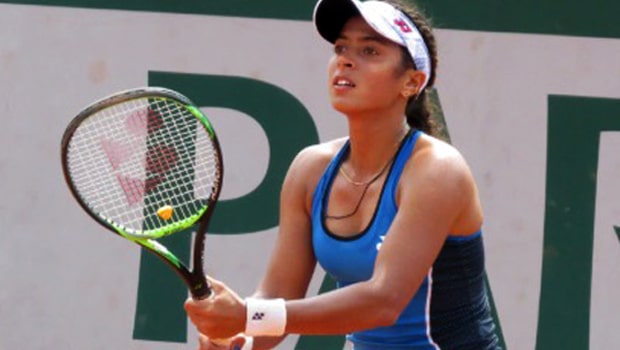 Women's tennis in India hasn't been fruitful for the past few years. The days when Sania Mirza was competing with some of the world's most accomplished players seems like an excruciatingly long time for the Indian faithful. Ever since her victory at the 2016 Australian Open, there has been a shortage of Indians challenging at the very top. However, Ankita Raina might have to say something about that now.
The 26-year-old currently stands as India's top seed at 175 in the World and is currently having a breakthrough 2019, putting in a series of impressive performances. While she might have only made it to the second round of the Australian Open in January, her fighting spirit has impressed many. And it was this confidence that helped Raina claim her first-ever career title when she beat Arantxa Rus to claim the ITF Women's tennis tournament in Singapore.
She also became only the fifth Indian tennis player to break into the top 200 rankings last year, another testament to her growing stardom. In the first half of April, Raina would finish runner-up in the ITF 60K Istanbul Lale Cup in Turkey, losing out to Russian Vitalia Diatchenko in the final.
Happy to have a good run this week! Runners-up in the singles event at ITF 60K Istanbul Lale Cup. Thankful to my sponsors for their support and for the efforts of my team & family who keep me going every day! pic.twitter.com/ZcccutzN81

— Ankita Raina (@ankita_champ) April 15, 2019
However, her biggest achievement would come last month when she overcame former US Open Champion Samantha Stosur in a gruelling three-set encounter at the Kunming open.
Speaking after the victory, she mentioned, "On the third match point that I won, I just told myself 'believe, it is now or never, and grab the opportunity. This is a big confidence-booster for my goal to achieve the top 100."
"When I won the last point, I did not know how to react. After the handshake, when I went back to my chair, I could not control myself. I started crying. I had a flashback of everything that I had gone through all these years," said Ankita.
24 hours later, she would partake in another epic with Zhang Kai-Lin in the quarter-finals. This time however, fatigue got the better of her as she succumbed to a 1-6, 7-6(2), 7-6(7) loss.
Raina's next expedition will be in China where she will take part in the W60 Luan as part of the ITF World Tennis Tour. Given her unprecedented form over the past year, one wouldn't put it past her to make her mark at the tournament. However, her long-term goal will be a spot in next year's Olympics in Tokyo.
Written by: Nithin John