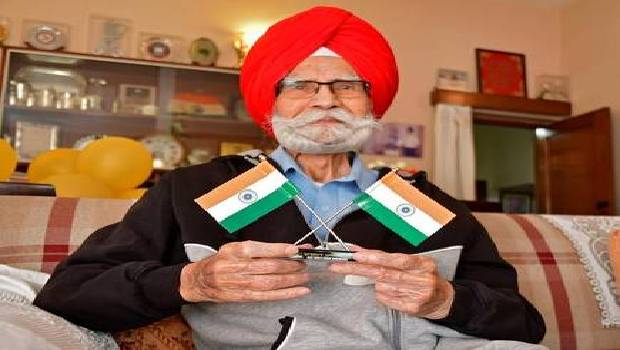 The hat-trick Olympic hockey gold medallist Balbir Singh Senior expired on May 25th, 2020, the legendary hockey player had admitted in the hospital with critical health issues. Balbir Singh Sr had been battling health issues over a week and had left the world at the age of 95. Senior had represented the Indian men's hockey team, Punjab State, Punjab Police, and Punjab University hockey team. The international hockey player has also taken part in the Asian Games Tokyo in the year 1958 and won a silver medal for the country. The legendary hockey player's first Olympic entry was at London, in the year 1948 and played against the Argentina hockey team. Singh had pocketed the first 2 goals for India and won the London Olympics finals as 4-0.
Singh had been an essential performer in the team, and won many accolades, in 1952 at Helsinki Olympics, Singh scored maximum goals for the team. Out of 13 goals Singh volleyed 9 shots in the net, during the year, Balbir was the flag bearer for the year's Olympic opening, and also pocketed hat-trick volleys in the semi-finals match against Britain. During the 1956 Melbourne Olympics, Balbir Senior captained the hockey team and scored 5 goals against the Afghanistan team. Singh had earned 22 goals for the Indian men's hockey team. Balbir Singh Senior featured in the stamp during the Dominican Republic to celebrate the win of the Melbourne Olympics. Balbir Senior has been awarded, as the Indian Sportsperson of the Century in 1982 by the Patriot newspaper.
The 95 years old legend, had been defeated after a week of medication because of a blood clot in the brain, and bronchial pneumonia. The former hockey player had been ill from May 8th, 2020, Singh the former hockey player had developed, a blood clot in his brain, fever, and several health issues while being admitted in the hospital, said the Fortis Hospital Director, Abhijit Singh. The legendary athlete took his last breath at 6:30 am morning in the hospital by the side of his daughter Sushbir and Singh's three sons Kanwalbir, Karanbir, and Gurbir. The country is mourning the loss of one of the bests, athletes, showed their respect through social-media. Singh was the one among the 16 Indian athletes to be chosen by the IOC across the Olympic history.