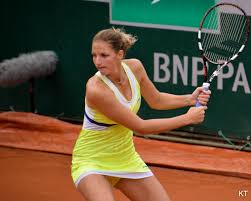 The Chez Republic will be led by Karolina Pliskova and Petra Kvitova against the United States defending champions during the upcoming Fed Cup final in Prague November 10-11, this was stated by the team captain on Wednesday.
The world ranked number seven and eighth would be teaming up with the 31st-ranked Katerina Siniakova, who is the world number one in doubles and 33rd- ranked Barbora Strycova, the number five in doubles.
The USA with 18 trophies to its tally and the Czech Republic with a total of 10 to its credit are the two most successful nations in the Fed Cup history. Thus the significance of their players being pitted against each other to the hardcourt sold-out 15,000 capacity arena.Last year the USA had beaten Belarus in Minsk being led by Kvitova and Pliskova. That also included the last three of the finals that were played on hardcourt.
"We are good at the finals, we are not so good against the Americans. We have never lost in the O2 Arena, but we have never beaten the Americans (in the final),"
During this year's semi-finals, Germany were beaten by the Czechs in Stuttgart while France was beaten by the United States in Aix-en-Provence.
This year the Czechs will be looking forward to avenge their defeat by the United States, while the USA will be fighting to retain the back-to-back title for the first time since 1999-2000.