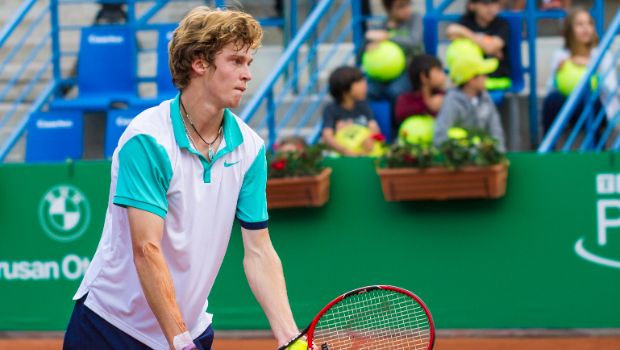 Andrey Rublev dived full length in one of the rallies of the tournament to seal a remarkable victory over Alexander Bublik. World No.7 Rublev saw off Kazakhstani Bublik in a five-set thriller 7-5, 6-3, 6-7(6), 6-7(5), 6-4 to advance into the Wimbledon quarter-finals for the first time, in a match that contained an astonishing point in the final game. Both men went stroke for stroke for over three hours on Centre Court, keeping the crowd very much excited with a match that could have gone either way.
After not featuring last year at SW19 due to the ban on Russian and Belarusian players, it has been quite an excellent run for the Russian Rublev, who has beaten Aslan Karatsev, David Goffin, and now Bublik on his route to the last eight.
Both players played a tough game and Bublik kept the pace with his higher-ranked opponent in the opening set. But just when a tie-break looked on the cards, the 26-year-old Kazakhstani faltered, getting broken as Rublev took it 7-5. The second set took on a hue that had been perhaps more anticipated, with the Russian top seed breaking once to take it 6-3.
Bublik, who had beaten Rublev in the final of Halle on grass last month, had a mountain to climb to get back into the encounter, but he had not progressed to the third round for no reason, and having taken the third and potentially decisive set to a tie-break, the world No. 26 belatedly got on the board in the encounter by taking it 8-6.
Three break points for Bublik came and went at 3-3 before Rublev squandered one of his own at 4-4. But another tie-break was the end outcome, and remarkably it was Bublik who recovered from 4-2 down to take it 7-5. Rublev looked shattered to have lost his two-set lead, and Bublik took the early ascendancy in the final set by holding in the first game.
Once more though the pair went toe-to-toe, progressing to 3-3 before Rublev got the crucial break. Then came the breathtaking last game, which saw Rublev dive full length to retrieve what looked like a certain Bublik winner, a shot that took him, one point later to victory. It was luck, nothing else. I don't think I can do it one more time, Rublev said. I said if I keep playing, I would have one chance, and in the end, I had it, played a really good volley, and was able to break him, he concluded.