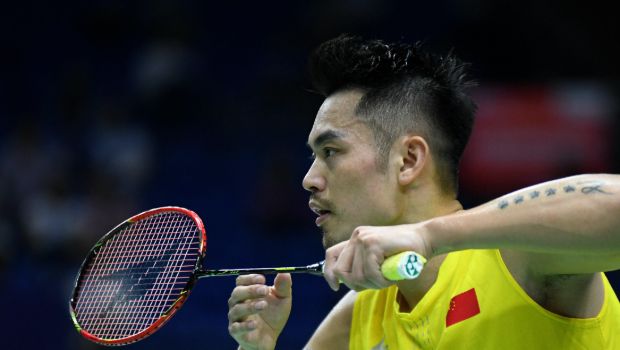 Kento Momota defeated Anders Antonsen in the men's singles final of the Indonesia Masters to win his first world tour title. Top-seeded Kento Momota won his first Badminton World Federation title since a major car accident in January 2020. Two-time world champion Momota dominated from the start and secured a comfortable straight sets 21-17, 21-11 win over Antonsen.
The World No.1 badminton player outclassed Antonsen of Denmark with his high-octane game. The Japanese shuttler took just 49 minutes to beat his opponent and registered a memorable win. The 27-year-old top-seed scored nine straight points in the second set to clinch the victory.
The Japanese star was involved in a life-threatening car crash last year after winning the Malaysian Masters title. The van he travelled crashed into a truck. While the driver died, Momota was lucky to escape with bodily bruising. Momota recorded a notable victory after sustaining multiple laceration wounds to his face. He has struggled a lot to be at his best. Momota was ruled out of competition for some time as he fractured his nose and right eye socket.
Momota dismissed the third-seed Antonsen with his blinding speed around the court. Antonsen managed to stay close to the Japanese ace in the first set at 10-11. Though the Danish challenger won six consecutive points, Momota was more clinical with his returns and placements. The second set was all about accuracy and top seed. The Japanese shuttler was on fire and scored nine straight points to take a 9-2 lead. He continued with the momentum and wrapped up the victory in no time.
Battle between the two reminded of the 2019 Indonesia Masters finals when Antonsen claimed the title in three sets. But Momota had different ideas and mindset this year. He pounced on opportunities and punished mistakes on time. Momota has won a record 11 titles and the title win at the Indonesia Masters was his first in almost two years. Momota, who was banned for illegal gambling in 2016 made a huge turnaround.
The Japanese badminton players dominated the Indonesia Masters and won titles in doubles category. In the men's doubles, Hoki Takuro and Kobayashi Yugo defeated home favorites Marcus Fernaldi Gideon and Kevin Sanjaya Sukamuljo in a thrilling three-setter 21-11, 17-21, 21-19. The Japanese duo earned second BWF World tour title after registering their first-ever win over the Indonesian pair.
In the women's doubles, Matsuyama Nami and Shida Chiharu outplayed South Korea's Jeong Na-eun and Korea Kim Hye-jeong in straight sets 21-9, 21-11. Yamaguchi Akane of Japan was beaten in the women's singles final by An Seyoung.