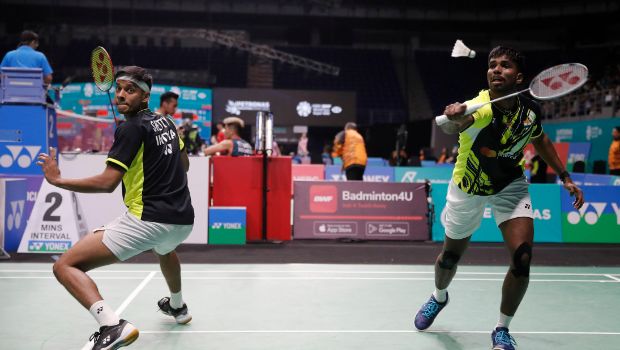 Satwiksairaj Rankireddy and Chirag Shetty of India advanced to the pre-quarterfinals of the ongoing Badminton World Federation (BWF) World Championships on Wednesday. 'Sat-Chi,' as India's top-ranked men's doubles combination is known, defeated the Australian pair of Zhe Hooi Choo and Ming Chuen Lim, rated world number 156. In 30 minutes, they defeated their Australian opponents 21-16, 21-9.
Satwiksairaj and Chirag are one step closer to their aim of capturing gold at the greatest level after conquering the Asian stage by winning the men's doubles gold at the Asian Championships in 2023 in Dubai and clinching bronze at the World Championships 2022 in Tokyo.
This year, the pair has won three BWF World Tour titles: the Swiss Open, the Indonesia Open, and the Korea Open. They earned India's first BWF Super 1000 title with their victory in Indonesia.
Meanwhile, Indian women's doubles pair of Treesa Jolly and Gayatri Gopichand advanced to the pre-quarterfinals of the World Championships with a straight-game victory over Chang Ching Hui and Yang Ching Tun of Chinese Taipei here on Wednesday. World no.19 Gayatri and Treesa defeated Chang and Yang, ranked 37th, 21-18, 21-10 in 38 minutes. The Commonwealth Games bronze medalists, who had a bye in the first round, will meet top seed Chinese Chen Qing Chen and Jia Yi Fan in the second round.
Treesa and Gayatri trailed 2-5 early on, but quickly began rotating the strike and extending rallies to force errors from their opponent, eventually winning 8-6. Chang and Yang fought back to 8-8, but the Indians held an 11-9 lead at the break, despite the Taiwanese combination splashing the net three times. Gayatri took the court immediately after the restart, showing great anticipation at the front court as India led 14-11.
Treesa made a few mistakes, but despite the fighting Taiwanese pair, the Indian duo maintained its lead. Treesa threw one wide, then hit the net, wasting two of them before closing it as Yang sprayed into it. Gayatri and Treesa maintained their lead after switching sides, leading 8-5 at one point. A strong return to serve gave the Indians a three-point lead at the half.
Gayatri and Treesa increased their lead to 14-8 following the restart. The Indian duo was called for a service fault owing to height, but it had no effect as the two capitalized on their opponent's run of blunders to quickly advance to 19-10. A terrific rally finished with Yang's forehand at the net, giving India 10 match points, which they sealed when their opponents went wide again.