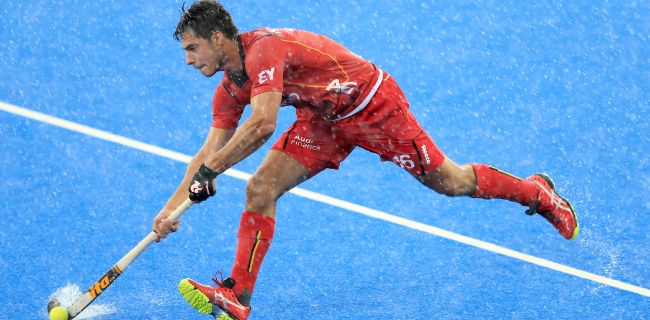 Defending champions Belgium registered a comprehensive 2-0 win over New Zealand in the second quarter-finals of the day at Kalinga Stadium. Belgium sealed their semifinal berth without facing many problems from the Black-sticks. The Red Lions missed the services of one of their star penalty corner expert Alexander Hendrickx who got injured. Hendrickx was ruled out after he twisted his knee in their final Pool B match against Japan. Tom Boon and Florent Van Aubel scored the goals for the title holders. Belgium now waits for the winner of Wednesday's (January 25) quarterfinal between England and Germany in the semifinals.
Reigning World champions took some time to settle down but once they did that, the Red Lions took complete control of the match. They executed their game plan well to score a goal each in the first and second quarters. Belgium held on to the 2-0 first-half lead till the end of the match. Star forward Tom Boon opened the scoring for Belgium in the 11th minute from their first penalty corner.
New Zealand's defense was not up to the mark in the first minute of the second quarter. Simon Gougnard's cross from the right side of the 'D' went past at least two Black-stick defenders and Aubel was left unmarked to slam home for an easy goal in the 16th minute.
The third and fourth quarters did not produce any goal with Belgium doing most of the attack while New Zealand defended their citadel well. Though New Zealand mounted a few spirited challenges in the final quarter with some fine attacking moves, they did not get the desired result.
Earlier in the day, three-time champions Australia was made to work hard to secure a 4-3 win over Spain in the first quarter-finals. With a hard-fought win over Spain, mighty Australians stormed into their 12th straight semifinals in the World Cup. Winners of 1986, 2010, and 2014 editions, Australia have made it to the semifinals of a World Cup on 11 occasions.
Australia and Spain played out a close and tight encounter. Jeremy Hayward's two penalty corner strikes in the third quarter made the difference. Spain captain Marc Miralles committed a costly mistake as he failed to score from a penalty stroke four minutes from the final hooter when his team was trailing 3-4. One of the tough contenders for the title, Australia will face the winner of the other last-eight match between the Netherlands and South Korea.