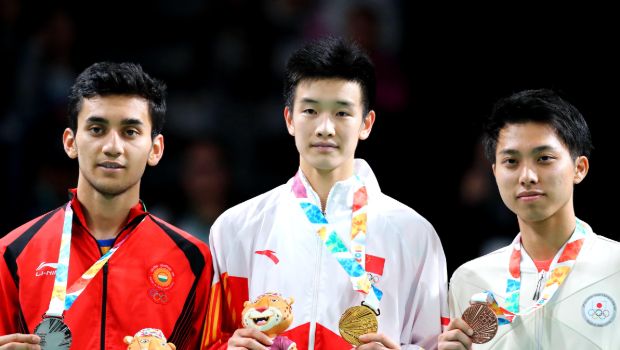 The 2021 Hylo Open badminton tournament was upgraded from a Super 100 to a Super 500 tournament. The Hylo Open is the seventh Super 500 tournament of the 2021 BWF World Tour. The Super 500 tournament is held at Saarlandhalle with total prize money of US$320,000. India's challenge ended at the Hylo Open tournament after Lakshya Sen suffered a shocking defeat in the Men's singles semifinals in Saarbrucken.
Lakshya Sen, who was brilliant in the quarter-final, suffered a straight-game loss to Loh Kean Yew. The 20-year-old Lakshya went down 18-21, 12-21 after battling it for 45 minutes. Though Lakshya Sen started well, he lacked finishing against 39th ranked Kean Yew from Singapore. The world no. 21, Lakshya matched his opponent in the fast-paced rallies but failed to end it well with good finishing touches.
Lakshya Sen faced his second loss to Kean Yew in three meetings this year. Lakshya Sen failed to defend his title and lost the Dutch Open final to Kean Yew last month. Lakshya avenged this loss with a straight-game win at the French Open.
Kean Yew showed better discipline and precision to clinch the victory in the semis. The duo played some terrific rallies on the court. Lakshya grabbed six straight points and took an 8-4 lead at one stage. Lakshya failed to continue with the momentum and made a few unforced errors. Kean Yew used the opportunity to break the run of points and came up 10-9 soon.
A long shot and a net error from Lakshya helped Kean Yew to take the advantage and inject pace in the play. Though Kean Yew turned the tables, Lakshya fought back to take a 17-15 lead with four quick points. However, Kean Yew ensured a better play and sealed the first game after sending one away from his opponent's reach.
The 24-year-old Kean Yew continued the momentum and opened the second game with a 2-0 lead. Though Lakshya gave a tough fight, Kean Yew managed to enter the interval with a three-point cushion. The Singaporean continued to hold the lead and slowly distanced himself from the Indian with his immaculate defense. Kean Yew reached the match point after smashing a half volley. Finally, Kean Yew secured the game with a stiff cross-court smash.
Loh Kean Yew will face Lee Zii Jia in the Men's singles finals. All-England champion Lee fought a great battle to beat Kidambi Srikanth 21-19, 22-20 in the semis. Kean Yew stunned Lee in the first round of the French Open last week. Lee hopes to take revenge on the Singapore star.