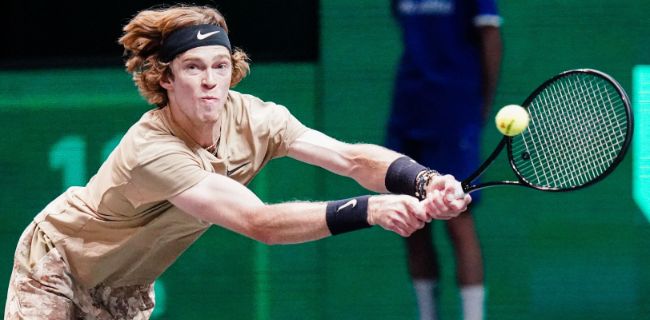 Russian rising star Andrey Rublev targets his first Grand Slam semi-final. But Rublev has deliver his best to reach the last four as he faces Serbia's No.1 Novak Djokovic in the quarter-finals of the Australia Open 2023. Rublev will be facing a stern test in the form of Djokovic when both the top seeds lock horns in a last-eight match at Melbourne Park on Wednesday, January 25. Rublev produced a brilliant performance to edge past ninth-seeded Holger Rune 6-3, 3-6, 6-3, 4-6, 7-6 (11-9) to reach a Grand Slam quarterfinal for the seventh time in his career.
Djokovic's road to a record-tying 22nd Grand Slam title continues with a dominant run in the Australian Open. Djokovic, who has been battling a hamstring injury, kept alive his hopes of equaling Rafael Nadal's record by cruising past home favorite Alex de Minaur 6-2, 6-1, 6-2 in the fourth round. The Serbian star, who is eying to win his record 10th Australian Open title, earned his 38th straight win on Australian soil. He has not lost at Melbourne Park since the fourth round in 2018.
The 25-year-old Russian is ready to challenge Djokovic after winning one of the best battles of the ongoing tournament. The 19-year-old Rune gave Rublev all he could handle. Rublev, who showed a never-give-up attitude till the end, is expected to repeat the same against Djokovic. Rublev is 1-2 against Djokovic in his career, losing in straight sets twice on hardcourts while defeating the superstar on clay in three sets last year in the final of the Serbia Open.
The way Djokovic is playing, it would be very hard for Rublev to stop him. In an on-court interview, Rublev expressed that he was not relishing the opportunity to face Djokovic on his favorite court. The Russian stated that he prefers to be in any other part of the draw but not Novak. He acknowledged that luck would not cut it against Djokovic. Rublev concluded that the only chance he has is if he plays his best tennis, just fights for every ball, and that is it.
On the other hand, Djokovic admitted that Rublev has established himself as a top-five player already for a few years. Djokovic stated that the young Russian is an explosive player with incredible firepower, especially from the serve and forehand corner.
Rublev has had the honor of beating Djokovic on his home turf during the Serbian Open Final. The tennis world might expect history to repeat itself.