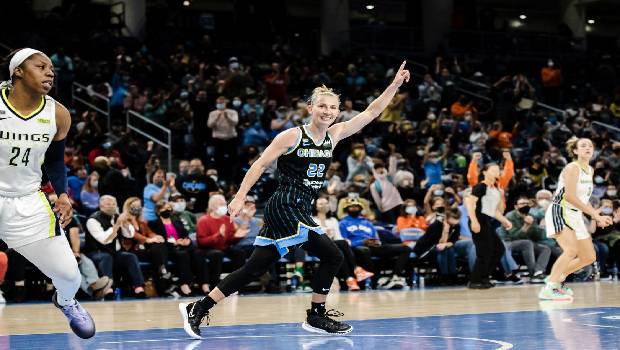 Chicago Sky sealed a 101-95 win over the Connecticut Sun in a double-overtime thriller at Mohegan Sun Arena. After nearly three hours of basketball, the Chicago Sky emerged as the winners and took a 1-0 series lead. The first game of the 2021 WNBA Playoffs was exciting and lived up to the expectations.
Courtney Vandersloot, point guard for the Chicago Sky had the second triple-double in WNBA playoff history with 12 points, 10 rebounds, and 18 assists to help her team beat the Connecticut Sun in the opener of their best-of-five semifinal series. Vandersloot has set a new playoff assists record in the basketball league. The American player, Candace Parker added 22 points, 5 rebounds, and 6 assists in a brilliant all-around performance.
Jonquel Orthea Jones finished with 26 points, 11 rebounds, and 4 assists, but those were not enough for the Sun to win the game. Brionna Jones added 22 points and 10 rebounds for the Sun. Jonquel Jones, who made two blocks, struggled to get much going on offense besides making trips to the free-throw line.
Earlier in the day, Jones received her MVP trophy while Brionna earned the Most Improved Player honor. The Connecticut Sun had a 14-game winning streak and this was their first loss since 3rd July 2021.
Stars of the match such as Vandersloot, Parker, and Jones delivered big-time performances. The crowd witnessed 14 lead changes and 15 ties as the two teams went back and forth. The result was in doubt until the final few seconds of the second overtime. Whenever the Sky needed, Vandersloot had turned things and made it happen for her team. During the second overtime of the game, Vandersloot came up strong and big with a couple of clutch feeds.
With the game tied at 93, Parker scored the crucial points with a neat pass from Vandersloot, which was her record-breaking assist to break Sue Bird's mark of 16. Vandersloot then threw an excellent pass to Stefanie Dolson and helped the Sky to get a four-point lead.
The Sun could not recover and failed to score more points in the second overtime. They scored only two basket of the second OT with just 13.7 seconds left in the game. Vandersloot had her 10th rebound with 7.9 seconds left.
This game was just the fifth in WNBA playoff history that has gone to double-overtime. This game was also the league's first double-overtime playoff game since 2015. Everyone will remember this game for years, but the Sun fans will try to erase it from their memory.