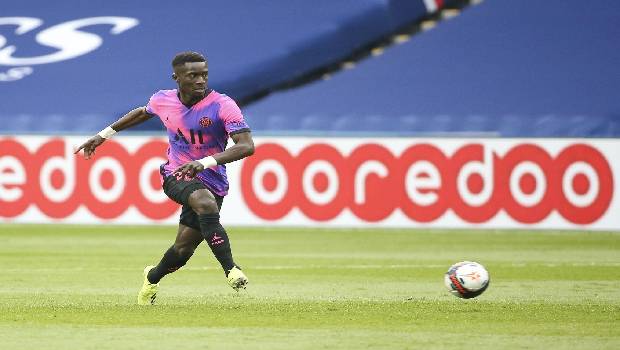 Paris Saint-Germain beat Manchester City 2-0 in their second group stage match at Paris des Princes Stadium. PSG is back on track with a convincing victory over Manchester City. PSG registered its first win in this year's Champions League season. After a poor opener in a 1-1 draw against Club Brugge, PSG ensured a win with a confident performance. Lionel Messi and Idrissa Gueye scored a goal each to win the match for PSG.
Paris Saint-Germain played the game in a must-win situation and started it with more confidence. PSG players attacked and created early chances to score the opener. As a result, Idrissa Gueye scored an early opener in the 8th minute and put PSG upfront. Messi and Mbappe exchanged passes and created a chance to shot on target. Gueye fired the ball into the top corner of the net after Neymar's mishit fell to him inside the box.
The Senegal star Idrissa Gueye equaled his best goalscoring tally in a single season after he scored the opener for the Parisians. The 32-year-old midfielder has scored four goals in six appearances across all competitions this season. He also became the joint-highest goal scorer for PSG alongside Kylian Mbappe and Ander Herrera.
PSG placed them in a comfortable position for much of the first half. PSG players enjoyed a slender 1-0 lead as they went back to the dressing room after the first half. In the second half, Manchester City grew in confidence and played an attacking game. Manchester City Players showed improved their performance with more possession and pass accuracy.
Manchester City threatened PSG time and time again but failed to score the equalizer. Though PSG strikers played only a few shots on target, they scored the goal when it mattered. When Manchester City was searching for the equalizer, PSG star striker Lionel Messi scored the second goal in the 74th minute of the game.
Messi scored his first goal for the PSG club. Messi combined with Kylian Mbappe and finished perfectly down the right. Without settling the ball, Messi smashed the ball into the upper right corner of the net. Manchester City goalkeeper Ederson Moraes had no chance to save it.
Manchester City strikers played almost 18 shots on target, but they were unlucky to find the net at least once. PSG goalkeeper Gianluigi Donnarumma was excellent on the field and made numerous saves from tight angles. PSG got a bit of revenge for last season's loss in the semifinals. While PSG moved to the top spot with five points, Manchester City is in third place in their group.