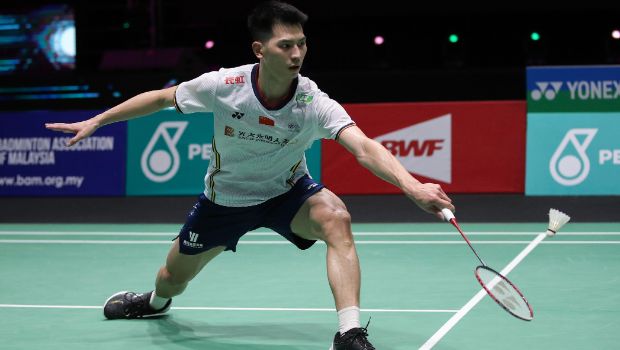 The unseeded Chinese player Zhao Jun Peng stunned Asian champion Lee Zii Jia with a spirited play in a nail-biting round-16 clash in Tokyo. The Malaysian top-seed Lee's ambition of becoming the country's first-ever world champion went up in smoke after Zhao secured a hard-fought 19-21, 21-11, 19-21 win. Zhao showed a strong never-give-up attitude and produced a phenomenal performance to make it into the men's singles quarter-finals of the 2022 BWF World Championships.
World No.5 Zii Jia crashed out of the World Championships event after making a lot of errors. Lee has to blame himself for not playing patiently and also allowing his opponent to claw back from 14-10 down in the decider game. Zii Jia's last 16 defeat also marked his worst ever result in his three appearances at the World Championships. Previously, he had made it to the quarter-finals in the 2019 and 2021 editions.
The first game was a tight affair as both shuttlers continued to deliver their best. After a long stretch, Zii Jia lost his grip and went down 16-20. But the 24-year-old Malaysian did well to claw back three points. However, World no.23 Zhao pocketed the opening game with a brilliant smash.
Zii Jia recovered admirably in the second game. He packed more punches in his shots to derail the Chinese opponent. The Malaysian continued with the momentum he gained and produced several cross-court skills which were so powerful as to outplay Zhao.
The third game went like the first, with both shuttlers trading points. Zhao had very good control in every aspect of the game, especially his net play. Zhao stood steady and delivered a masterclass to pull away in the end. Zii Jia tried his best to mount a comeback, but it proved too late. Zii Jia still needs to stabilize his performance.
Zhao will be up against HS Prannoy of India in the men's quarter-finals. Prannoy staged a spirited comeback to beat the Commonwealth Games champion Lakshya Sen. Prannoy got the better of his Indian counterpart and secured the win with a score line of 17-21, 21-16, and 21-17 to advance to the quarter-finals. It was the fourth meeting of the year for the two Indians after Prannoy's win, their head-to-head record became 2-2.
The 30-year-old shuttler played extremely focused to win the contest. Prannoy's confidence is building day by day. Fans would witness a good battle between Prannoy and Zhao as both shuttlers had registered a few good wins in the tournament.