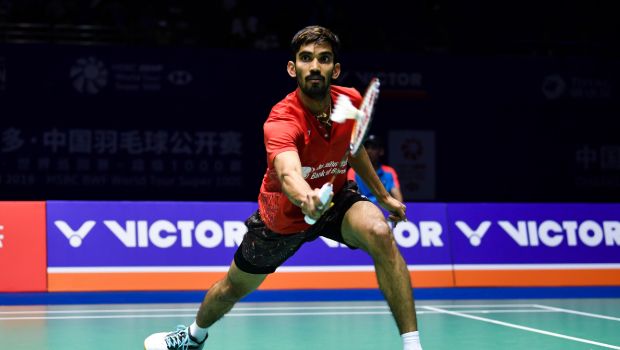 Indian shuttler Srikanth Kidambi sealed his berth in the quarterfinals of the Swiss Open with a fighting win over Christo Popov of France in three sets on Thursday. Srikanth staved off a spirited challenge from Popov of France and went onto register a remarkable 13-21, 25-23, 21-11 win in the second round of the Super 300 event. After losing the first game, Srikanth battled hard to get back into the game and gained the momentum to force a decider by securing the second game.
Srikanth's fighting spirit and never give up attitude helped him to earn a place in the last eight. World Championships silver medalist Kidambi Srikanth will be up against second-seeded Anders Antonsen in the quarterfinals.
The 20-year-old French player started well and dominated the first game with pure pace. Srikanth struggled to pick up the left-hander's terrific cross-court smashes and trailed 9-4. Though Srikanth tried hard to stay in the contest, he failed to match the level of his opponent. The Indian surrendered the first game in just 17 minutes. The Frenchman completely outplayed the 29-year-old experienced player.
World no.12 Srikanth got back into the groove and displayed a strong fight in the second game. The Indian used all his skills and techniques to build pressure on his young opponent. However, Popov did not concede many points and stayed in the game with scores of 10-10. Srikanth went into the midgame break with a slender 11-10 lead.
The Frenchman Popov's inexperience was seen clear and he kept losing points at crucial moments. Both players began to swing like a pendulum as they traded points. The young Frenchman gave a big scare to the Indian by leveling the scores. However, Srikanth remained calm and played well to save a couple of match points before bagging it at 25-23. The Indian player forced a decider by earning a very hard-fought win in the second game.
Srikanth dominated the decider from the start and displayed all his experience. He led the game 11-8 at the change of sides in the third game. Though Srikanth had only a three-point lead, it looked to be a massive advantage for him. Popov who played brilliantly in the first two games could not even come close to the Indian.
Srikanth completely demolished Popov in the decider and won it comfortably. The Indian shuttler managed to pull an excellent win from the jaws of defeat. All fans expect an exciting and thrilling battle between Srikanth and Antonsen in the quarterfinals.