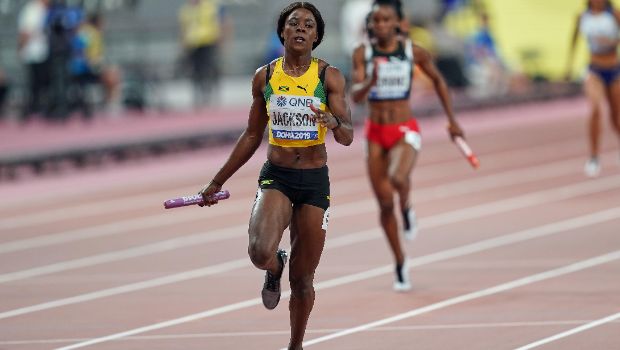 Shericka Jackson ran the third-fastest (21.55 seconds) 200 meters in history to complete the sprint at the Jamaican Championships. Two other Jamaican track sprinters, Elaine Thompson-Herah (22.05) and world champion Shelly-Ann Fraser-Pryce (22.14) finished second and third respectively. With this result, the Women's track athletes have set the track on fire ahead of the World Athletics Championships. The World Athletics Championships 2022 in Oregon will begin on July 15.
The 27-year-old Jackson is now only third behind Florence Griffith-Joyner (21.34) and Thompson-Herah (21.53) in the 200 meters. Jackson had also won her first Jamaican national title in the 100 meters with a season-best of 10.77 (0.9m/s).
After finishing at the top, Jackson admitted that she did not expect to run this fast. Jackson expressed that she knew she was in good shape to give her best. Jackson added that her coach wanted a proper execution and the curve was one of the areas he discussed. The Jamaican stated that she felt happy after doing well on the curve. She concluded that the coach told her to run the first 100m hard and do whatever she wants afterward.
If Fraser-Pryce runs both the sprint events and Jackson can also continue with this form, it will be a treat to watch the women's 100 and 200 meters at the Worlds championships. Five-time Olympic champion Thompson-Herah is eying for Griffith-Joyner's long-standing 100 meters world record of 10.49 seconds set in 1998.
Thomson-Herah, who won the gold medals in the 100m and 200m at the Tokyo Olympics, has already been given the title of the fastest woman ever in the 100m. Experts say that Thomson-Herah's 10.54 achieved last year with a wind speed of +0.9 meters per second is more authentic than Griffith-Joyner's. The 30-year-old Thompson-Herah can achieve one of the greatest feats in sport if she breaks what has been considered an 'evergreen record'.
On the other hand, in the men's sprint, Yohan Blake's return to form with a blistering 9.85 seconds, his best timing in a decade, has come at the right time. In the 200m, it will be a thriller to watch the showdown between defending world champion Noah Lyles and the rising star Erriyon Knighton. Lyles defeated the teenager to win the 200m final at the US Athletics Championships.