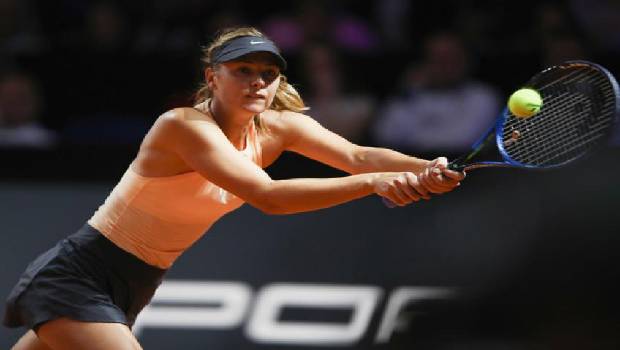 Maria Sharapova the Russian tennis player, was defeated by Croatian player Donna Vekic as 3-6,4-6. Sharapova the World No: 1 tennis champion was seen striving with the passes between the player, at the day 2 Melbourne AO2020 match.
Even before the Russian decided to swing, the score 4-1 was set by Vekic. As the No 1 player was back from the shoulder injury, the lack of practice could have cost the AO2020 match. At the French Open 2018, the same players were repeated, but Sharapova the Russian sealed the game at 7-5, 6-4.
During the same-day, Karolina Pliskova was courted against Kristina Mladenovic at the Rod Laver Arena on 21st January 2020. The World 2 player won the series as 6-1, 7-5 in the game by competing with Mladenovic.
The French tennis player sets a tough challenge Pliskova said, though the Czech's player began the series with 4-0. Tie scores like 2-2, 3-3, 4-4 which were scored in the 2nd set at constant intervals were spotted in the game. Mladenovic due to the errors while smashing the ball had ended as the wrong serve so Pliskova led to finish the game as 5-7 and the Czech's player moved ahead with the AO2020 schedule.
Rafael Nadal won over Hugo Dellien in the men's singles that was held on the day 2 of the AO2020 programme. The first set began with Nadal at 2-0 lead by hitting at the empty spot left unnoticed by the Bolivian player. Hugo Dellien slowly but successfully figured the game and then began returning the shot, but pressure left the player with unplanned serves and brought Nadal and Dellien to score 6-2 in the first set.
Rafael Nadal's strike conveyed his firmness in redeeming the failure from the finals with Novak Djokovic. As the game progressed, the second set began with 1-1 later Nadal's precise serve changed the course for Dellien and the points were escalated to 6-3.
At the beginning of the last set, Nadal's love and Dellien 15 lead to anticipate the final to be scored by Bolivian tennis player, but Nadal confirmed the final set as well. The 33 years old Spanish tennis player swept off the Bolivian with 6-0 and won the match. Nadal when reminded of the practice before the season, conveyed that Bolivian player will be a tough f