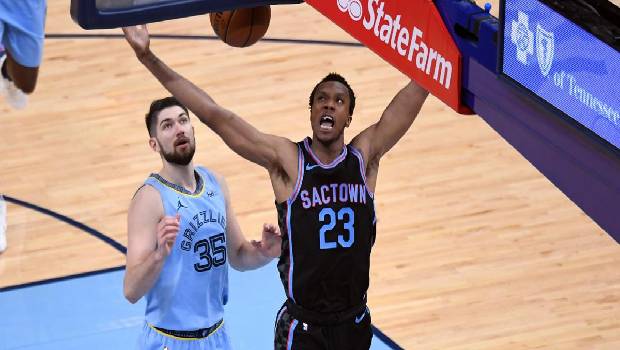 The Sacramento Kings had a comfortable 100-67 win over the Boston Celtics in the championship game at Thomas & Mack Center. Sacramento Kings became the first team in NBA history to win multiple Summer League titles. The Kings finished undefeated in Las Vegas after a power-packed second-half performance.
The Kings outplayed the Celtics 56-31 in the final 20 minutes of the game and won their second title after 2014. Sacramento Kings defeated Boston Celtics for the fifth time in six meetings.
Louis King dominated the game for Sacramento and scored 21 points to help the Kings clinch the victory. American players Jahmi'us Ramsey and Matt Coleman added 16 and 14 respectively for the Kings total. Carsen Edwards top-scored 15 points for the Celtics, while Aaron Nesmith added 12 points and six rebounds.
The 20-year-old Princepal Singh from India made his debut in the 2021 Summer League. He played four minutes in the final moments of the championship game and scored two points. He even pulled a rebound and played out proper defensive game. The 6 foot 9 inches forward player created history by becoming the first-ever Indian to lift an NBA trophy.
Louis King was the star of the championship game with 21 points, three rebounds, and five steals. He was shooting 8 of 18 from the field. The Celtics had a good start in the contest with an early 15-4 lead. The Kings fought back to take a four-point lead at the end of the first quarter. It was Louis King, who kept them in the contest with his offense and scored 10 points in the first quarter.
Davion Mitchell led the Kings defense throughout the tournament, which was very aggressive. He brought up the heat in the final game and made it very tough for the Celtics players with his techniques. Mitchell shut down Payton Pritchard to just six points. The Celtics team's sharpshooter Pritchard averages 20.3 points per game for the Celtics. Mitchell was also good in offensive play with nine points and seven assists.
The Celtics came into the championship game without facing any defeat, but the Kings choked them throughout the second half and allowed just 31 points. The Sacramento Kings finished the game with 18 steals, while the Celtics turned the ball over 28 times. Emanuel Terry and Louis King had five steals each. Terry was a huge boost to the Kings with nine points and 15 rebounds.