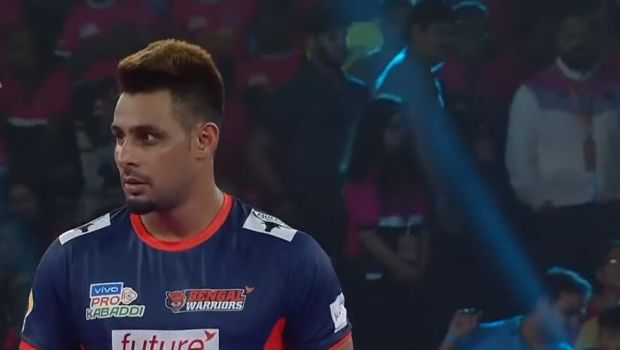 Bengal Warriors beat Telugu Titans in a last-minute thriller on Monday. Bengal Warriors held their nerves till the final second and defeated the Titans 28-27. The Warriors have won nine and lost only three of their 16 matches against the Telugu Titans. The Warriors are placed in the seventh spot with 30 points after securing a fighting win in the nail-biting encounter.
Bengal Warriors have managed to register two consecutive wins after terribly losing five out of six matches. Skipper Maninder Singh has put the team on his shoulder and led the Warriors from the front in recent resurgence. Maninder has scored 29 points in his last two matches, and raised his season average to 12.9 points. Apart from Maninder, other players are yet to contribute their best.
Iranian all-rounder Mohammad Nabibakhsh has not been in fine form and failed to make an impact as he did earlier. Veteran raider Sukesh Hegde and defender Abozar Mighani and Sukesh Hegde are struggling to find their rhythm on the mat. The Warriors need someone other than Maninder to impress and make a difference on the mat if they want to retain their title crown.
Though the Titans play competitive and brilliant in every game of this season, they are lacking something and are yet to register a win. Rajnish Dalal and Ankit Beniwal are the two, who make some efforts and play well in the absence of Siddharth Desai. The performances of the rest of the players have left a lot to be desired.
Rohit Kumar has scored just five raid points in six matches, a horrid return from one of the best raiders of the sport. Telugu Titans are drifting further and further away from the playoff contention. The Titans must turn in fortunes and create chances of sneaking into the playoff spots.
Both teams started the game with good raids as well as brilliant defense. Players from both teams traded points and kept the scores very tight. Rajnish made the difference with a super raid and took the Titans to a five-point lead. However, Maninder has been phenomenal and cut down the deficient to two points with his remarkable raids.
The Warriors' rock-solid defense in the crucial time of the match helped them to hold on to the lead. The Titans slipped away the game with some unwanted serious errors. Bengal Warriors executed their plan to great effort in the closing minutes to secure the win.