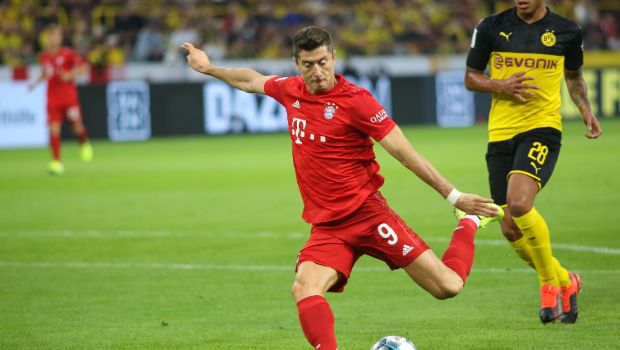 The Poland captain Robert Lewandowski won the FIFA Best Men's Player of the Year 2021 award on Monday night. Robert Lewandowski has dominated and made 2021 a fruitful year by adding one more jewel to his crown. The Polish striker edged past Argentine star Lionel Messi of Paris Saint-Germain and Egyptian Mohamed Salah of Liverpool to claim the award for the second time. This award must be a great consolation for Lewandowski who lost out to Messi for the Ballon d'Or in November.
Bayern Munich's record-setting striker impressed all and had an excellent last season by setting a Bundesliga goal record. Lewandowski is now equal with the Portugal star Cristiano Ronaldo for winning the FIFA award. Both the players have won the award twice. While Lewandowski acquired 82 votes, Messi managed merely 39 which is less than half of that of the Poland striker.
Lewandowski has been in top form and rained goals for Bayern Munich in the 2021 Bundesliga. Lewandowski scored 41 goals to break Gerd Mueller's record of scoring most goals in a single campaign. He outclassed other players with a total goal of 69 in 2021 for both club and country.
The Spanish midfielder Alexia Putellas won the FIFA Best Women's Player of the Year award. It was a double delight for Putellas who won two honorable awards. Earlier in November, the Barcelona captain won the Ballon d'Or award. Putellas triumphed over her Barcelona team-mate Jennifer Hermoso and Chelsea striker Sam Kerr to win the FIFA award.
The 27-year-old midfielder had an exceptional 2020-2021 season with Barcelona. Putellas proved to be one of the best players in the world. She led Barcelona to lift the Spanish League cup as well as the Champions League.
Chelsea manager Thomas Tuchel surpassed Manchester City's Pep Guardiola and Italy's Roberto Mancini to secure the best Manager award of the Year 2021. Tuchel guided Chelsea to win the 2021 UEFA Champions League. The Blues' women team manager Emma Hayes won the best manager award. Hayes became the first woman manager to reach the Champions League final in 12 years.
Edouard Mendy of Senegal won the Best Goalkeeper award, edging PSG star Gianluigi Donnarumma and Bayern Munich's Manuel Neuer. Argentine Midfielder Erik Lamela won the best goal award for his tricky shot for the Spurs. Denmark players and their medical staff, who dealt brilliantly with Christian Eriksen's collapse on the field at the 2021 Euro Cup won the fair-play award.