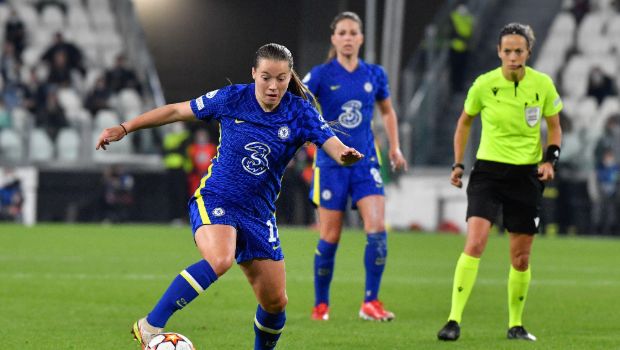 Chelsea crushed Servette 7-0 in their Group-A match at Stade de Geneve. The hosts experienced one of their worst defeats in the UEFA league history. The Blues had an unstoppable 6-0 lead at the half time. Servette never looked comfortable with their play. Australian forward Samantha Kerr and England striker Fran Kirby scored twice and made two assists each. Melanie Leupolz, Jessie Fleming, and Guro Reiten scored a goal each for their side.
Chelsea delivered the relentless performance in front of 10,000 fans. Chelsea manager Emma Hayes made seven changes to her side. The Blues enjoyed themselves in Switzerland with returns of their star strikers Kerr and Kirby. The Blues outclassed Servette with their impressive attacking play. The visitors got off to a quick start as Leupolz scored an early opener in the 8th minute. The German international latched onto the ball, took a touch with her right and then smashed it across the goalkeeper with her left foot.
Fran Kirby and Sam Kerr stunned their opponent by scoring four goals in 18 minutes period. Kerr played a brilliant flick through Servette defense for Kirby, who made a fine touch to beat the goalkeeper. Two minutes later, Reiten played a good cross to the back post for Leupolz. Leupolz controlled the ball to put into the path of Kerr, who fired into the net from six yards and made it 3-0.
The Blues never allowed Servette to get back into the game. Kerr scored her second in the 20th minute. Kirby cleverly passed the ball between the centre backs for Kerr. Kerr made a fine touch and poked it home. It was an incredible play from the Blues. Though Servette had a long chat, they were left with no answers. Kerr could have scored a hat-trick but her shot went just inches over the crossbar.
The Servette defending was truly woeful as Kirby took her time and freely shot the ball into the corner from a yard or two. Chelsea was in total control with a lead of 5-0. Servette failed to level up with the quality of the Blues. Jessie went beyond the defense and smashed it at the near post.
The Blues were excellent on the field with more possession and accurate passes. Kerr played the ball across to Reiten, who slotted it into the corner of the net. It was all easy for the Blues throughout the game. Chelsea would have felt slightly disappointed for not reaching double figures. While Chelsea leads their group with 7 points, Servette is yet to big its count.