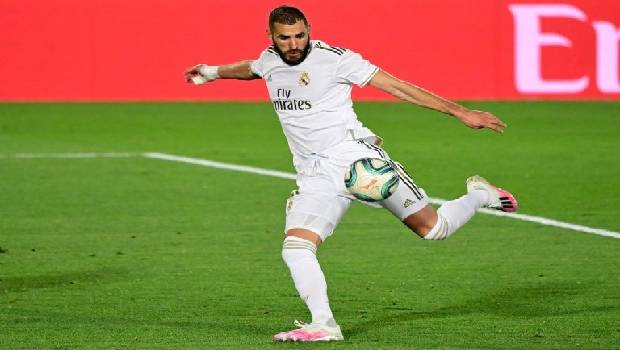 Madrid clinched their 34th La Liga title on Thursday, first since 2017. This huge result comes after Real Madrid's perfect win streak following the pandemic break with a 2-1 win over Villarreal. The Los Blancos are now a seven-point clear of runner up Barcelona with a match to spare. Barcelona lost to a 10-man Osasuna at their home ground Camp Nou Stadium. Zidane's men have won each of the 10 of their matches since La Liga football restarted in June.
Karim Benzema scored twice in the crucial game to give Real Madrid their tenth continuous league victory. Before the league came to a halt due to coronavirus pandemic Real Madrid was two points behind the defending champions Barcelona. Zidane's team was the only club to keep a perfect run by winning all its 10 matches since coming back from the break.
Real Madrid was crowned as the champions in a stadium of 6,000 empty seats, their first title since 2017. Yet, that did not stop the Los Blancos men from celebrating the occasion as they pulled on their shirts with "Campeones 34" imprinted on the back before lifting the trophy in the festivity.
Upon asking after becoming the champions Zidane ecstatically said he felt better than anything, even better compared to winning the Champions League, since it takes a huge effort to win the La Liga title. He was happy that his team ended up scoring the highest point in the league after all the chaos and emotions that were caused by the pandemic and lockdown. Real Madrid has ended Barcelona's two-year dominance in the Spanish league with this win.
Barcelona entered their match with a must-win situation and with the expectation of Madrid making a mistake to stay in the title race. Rather, the Catalans lost 2-1 at home against Osasuna. Osasuna's José Arnaíz scored the opener of the match, but in the second half, Messi showed his usual class by scoring his 23rd league goal from a free-kick to level the game. Osasuna was reduced to a 10-man after losing substitute Enric Gallego to an immediate red card for injuring Barcelona's defender Clement Lenglet in the 77th. But Osasuna came back strong as Roberto Torres scored a late goal in stoppage time to take back the lead and ending the hopes of Barcelona for a third consecutive title finish.