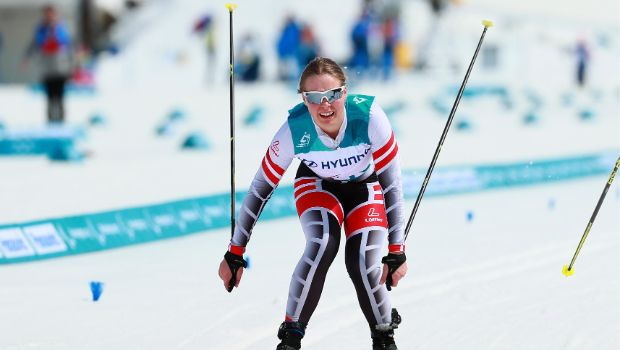 The Austrian vision-impaired skier Carina Edlinger overcame exhausting health issues to secure her maiden Paralympic gold medal. The Austrian nearly scupper her campaign altogether. Four-time World champion Edlinger was the favorite athlete to win the gold medal as she finished as the overall cross-country World Cup winner for a second successive year. Four years ago, Edlinger participated in PyeongChang Winter Paralympics as one of the best to grab the gold medal. But she failed and settled with a bronze medal in the middle-distance event.
Edlinger was very disappointed after her performance at her maiden Paralympics in South Korea. Now Edlinger has high expectations for her second World Championships in Prince George, Canada. Carina Edlinger nicknamed 'Cari' made a stunning debut in the 2016-17 season. Cari finished as the overall winner of the cross-country World Cup after capturing four wins and six other podium finishes. The Austrians' sight in both eyes decreased due to a rare genetic disease.
After winning the race, Edlinger said that she feels happy and great to secure gold. Edlinger admitted that she had problems with her legs and collapsed multiple times. However, Edlinger never gave up and proved strong to finish at the top. Edlinger stated that a few days ago she faced a difficult situation and was completely paralyzed below the neck.
The Austrian expressed that as one of the lowest points, she had experienced in her sports career. Edlinger added that she felt more frustrating as she failed to finish well in the 2018 Winter Paralympics. The Austrian expressed that she knows what she is capable of and winning a gold medal is amazing.
Another athlete who garnered the attention of all on day 5 of the Bejing Paralympics was Brian McKeever. The Canadian skier GOAT Brian McKeever timed his race to perfection to win his fourth consecutive visually impaired sprint cross-country gold medal. The 42-year-old McKeever and his guide Russell Kennedy overtook Jake Adicoff of America in the final stretch to claim the victory by just 0.8 seconds. The Swedish skier Zebastian Modin stood third on the podium.
McKeever secured his 15th Paralympic gold with an incredible race. The Canadian is just one short of the record held by German Para-Alpine skier Gerd Schoenfelder. McKeever admitted that he was not able to start at a good pace due to the age factor. But he built on well through the whole race and finished at the top.