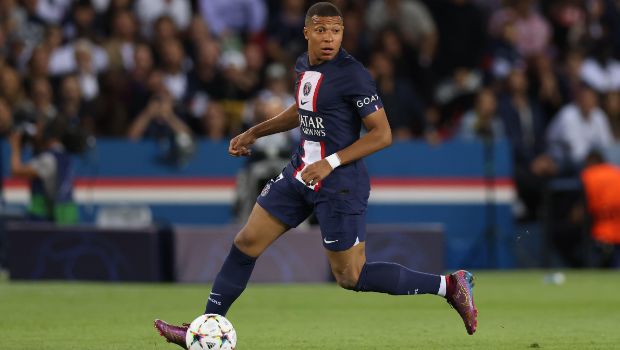 French star Kylian Mbappe has reportedly kept three conditions in front of the Paris-Saint Germain management if they want him to stay with the club. Earlier there have been widespread speculations that Mbappe might leave the PSG franchise and he may join Real Madrid ahead of the upcoming season. Now, things have overturned or seen an unexpected change of events as the French striker has put forth three demands to the Ligue 1 club PSG if they want the young player to remain with them as reported by a Spanish outlet OK Diario.
The 24-year-old Frenchman, who has exceptional speed and excellent finishing skills, currently, had a contract with Paris Saint Germain until the 2024-2025 season. However, there were reports that Mbappe was unhappy with the situation in the club and also not in good relations with some teammates. He wants to explore other options.
There are guesses that the French forward feels betrayed by the club as it failed to complete the promises made to him when his contract was renewed. Eventually, he threatened the management to leave the club ahead of the coming season. Notably, now things appear to take some turns as Mbappe has decided to give Les Parisiens another chance. Mbappe has laid out some tough conditions in front of the Ligue 1 giants. Of the three conditions he has put forward, the condition that is being talked about the most is that he has asked the club to sell the Brazilian star Neymar.
Earlier many incidents on the field and also off the field proved that both the strikers do not have good relations and now Mbappe wants PSG to part ways with Neymar. Not only Neymar, but manager Christophe Galtier is also someone with whom the Frenchman is not on good terms.
In his second condition, he has asked PSG to replace Galtier with French legendary player Zinedine Zidane, who is currently without a club. In his third and final condition, the Paris Saint Germain superstar has asked the club to sign the England captain Harry Kane.
Moreover, Mbappe has been consistently performing well for the Paris-based club. In the previous seasons, he has been in the form of his life and had destroyed all the opposition with his dribbling abilities and pure skills. In the recently concluded FIFA World Cup, he was remarkable throughout the tournament and also won the Golden Boot for scoring the highest number (8) of goals.