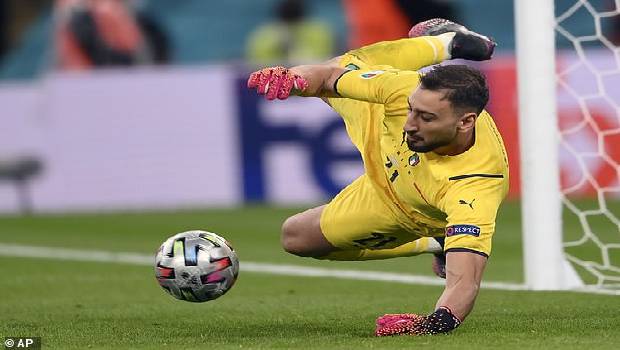 Italy defeated England 3-2 on penalties in the Euro 2020 final at Wembley on Sunday. Italy was crowned as the European champions for the first time since 1968. The Azzuri ended their 53-year long wait and won their second European championship title. It was a joy for Italy as they completed a remarkable comeback after missing the World Cup berth in 2018.
Italy extended its winning streak to a record-stretching 34 games and finished the Euro 2020 campaign without a defeat. England's dream of Euro glory ended in heartbreak, which had waited 55 years to enter a major final. England manager Gareth Southgate made a courageous decision by allowing three youngsters to take the last 3 penalties but it did not work for them.
The referee called off for the penalty shootout as the match ended 1-1 in extra time. Italian goalkeeper Gianluigi Donnarumma was the hero in the shootout, as he made two decisive saves from Jadon Sancho and Bukayo Saka shots, while substitute Marcus Rashford hit the post.
Italy conceded a goal straight away in the first half and struggled for the first 30 minutes but then dominated the game completely. Around 60,000 England fans erupted in full joy as Luke Shaw slotted with a superb volley, beating Gianluigi Donnarruma in the 2nd minute of the game. Kane passed the ball to Tripper in the right-wing, who crossed long to the top of the six-yard box. Shaw then smashed it, which clipped inside of the left-hand post and settled into the net.
The goal was recorded as the fastest one in the history of the European Championship final, beating Spain's Chus Pereda goal in the 6th minute of the 1964 final against the Soviet Union.
An experienced defensive combination of Giorgio Chiellini and Leonardo Bonucci disabled the English attack. Even the English captain Harry Kane was unable to create a single chance or attempt a shot in the big final. This happened for the second time for Kane in his 61 games for England.
Italian defender Bonucci scored the equalizer in the 67th minute. Verratti tried to score from the left-hand corner of the six-yard box but keeper Pickford turned that onto the post. The ball bounced back to Bonucci, who stood in front of the goal line and smashed it into the net from a close range.
Teenager Bukayo Saka missed the deciding spot-kick for England. England's manager Southgate said it was his responsibility for Saka to take the shot. Harry Kane expressed his disappointment and admitted the defeat as 'the worst feeling in the World'.