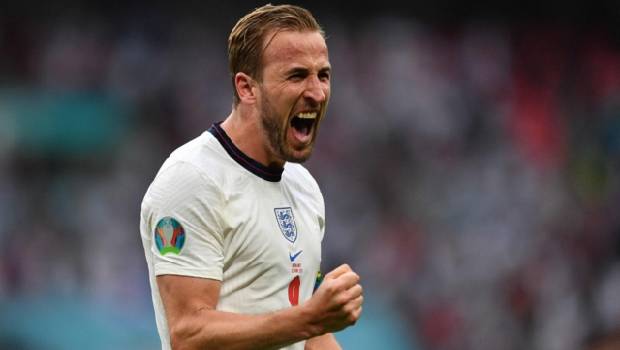 England reached the final of the Euro 2020 by defeating Denmark 2-1 at Wembley on Wednesday. Harry Kane scored the winner for England in the extra time. England will clash with Italy for the Euro title on Sunday. England has won their first semi-final game since the 1966 World cup.
England is going to play their first European championship final in football history. After a very long wait of 55 years, England will play in a major title match on Sunday. Before this match, England has not conceded a single goal whereas Denmark has scored11 goals in the tournament.
The semi-final started with a roar as the stadium was fully packed with 65,000 fans. England dominated the opening minutes of the game. Denmark played a defensive one to slow down the pace of the England players. England looked dangerous as they played more towards the target.
The first attack from the Danish came in the 10th minute of the game, it was a magnificent team effort but keeper Pickford collected the ball safely. Denmark had a good chance to score when keeper Pickford made a huge mistake by throwing the ball to a Danish foot but it was shot wide.
In the 26th minute, England goalkeeper Jordan Pickford set a new record for most minutes without conceding a goal, overtaking Gordon Bank's 720 minutes. Outplayed in the opening few minutes, Denmark started to control the game and had good possessions. As a result, Mikkel Damsgaard scored a stunner as Denmark lead 1-0.
Damsgaard slicensed the home crowd with a firing free-kick from 25 meters out which flew into the net.
England leveled the score nine minutes later, but it was an own goal from the Danish. Saka charged on the right side of the goal as he got a clever pass from Kane. Saka then pushed the ball cross across the goal where Sterling and Kjaer tried to get a decisive touch. But unfortunately, the Danish Captain Simon Kjaer diverted it to his own goal.
Both the teams fought very hard in the second half to score a winner but none could find it till the full time. Kasper Schmeichel made a good 6 saves tonight, one of the best in the tournament. The game went on to the added minutes. Sterling dribbled inside the box, VAR checked on and it's a penalty for England. Harry Kane shot the ball, keeper Schmeichel made a good dive to save it. But the rebounded ball fell near the foot of Kane, who tapped it easily into the net.