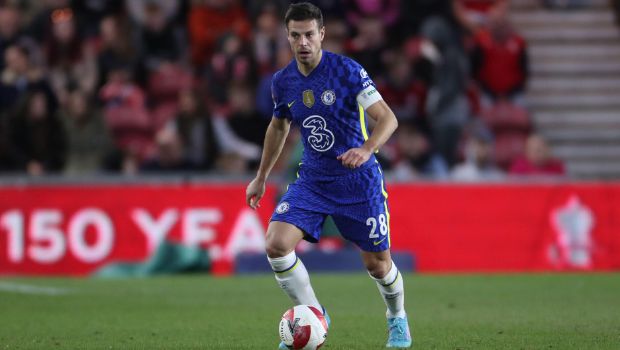 Football is on the brink of the Premier League season beginning. The clubs might be ready to start their campaign but they are far from finished in the transfer window. The Premier League season kicks off when Crystal Palace hosts Arsenal at Selhurst Park on Friday night. But there is still plenty of work being done in the transfer market. Chelsea on Thursday announced that their club captain Cesar Azpilicueta has extended his stay at the club by signing a new two-year deal. The Spanish defender joined Chelsea FC way back in August 2012 and has enjoyed fruitful and successful years at the club.
Azpilicueta's future at Chelsea was in doubt as reports from many sources stated that he might get a move to FC Barcelona. But now, all the questions have been put to rest as the Blues announced that the Spanish center-back player will be staying for at least two more years.
In an official statement on the club's website, the Blues confirmed that Cesar Azpilicueta has signed a new contract with Chelsea FC and will be continuing his already decade-long at the club. After extending his contract, the 32-year-old defender expressed his happiness at extending his stay at the club. Azpilicueta said that he felt the love of the club and was much excited about the new project.
Azpilicueta admitted that he is really happy to extend his stay at home. Chelsea captain said that it's been almost 10 years since he first arrived and joined the club, and he is ready to deliver his best for the club's success with the new project in his hands.
The Spanish Footballer also thanked Chelsea's new owners Todd Boehly and Behdad Eghbali for giving him the opportunity to keep his journey at this amazing club. Azpilicueta further added that he is really looking forward to continuing the adventure with his team. Azpilicueta concluded that he is a proud captain and hopes to share many good memories with the Blues.
Chelsea FC completed the signing of English midfielder Carney Chukwuemeka from Aston Villa on Thursday. Chukwuemeka has signed a six-year contract with the Blues. Both Premier League clubs announced that they had reached an agreement deal for the 18-year-old midfielder's transfer. Chelsea wrapped up the deal quickly as the English Footballer was considered to be one of the hottest prospects in Europe. Chukwuemeka became the third signing of the transfer window for the former Premier League champions.