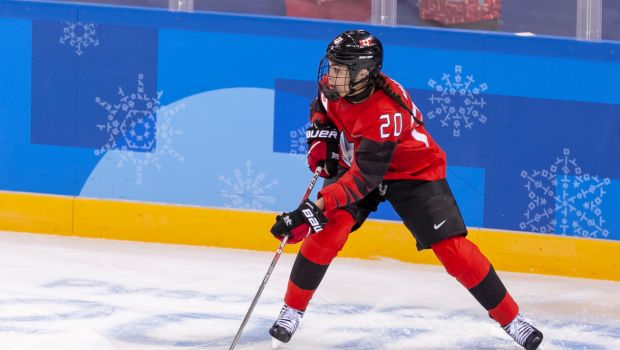 Canada defeated arch-rivals USA 3-2 to win the gold medal in women's hockey at the 2022 Winter Olympics in Beijing. Sarah Nurse started the scoring for Canada. Canada's captain Marie-Philip Poulin had two goals and made an secondary assist. Canadian goalie Ann-Renee Desbiens was outstanding before the net and helped her team to win the finals with 38 saves.
USA and Canada yet again locked horns for Olympic Women's ice hockey gold. This was their sixth meeting since the event was added in 1998. The Americans won the gold twice in 1998 and 2018. Meanwhile, Canada has won gold for a record five times, four times against the Americans and one against Sweden in 2006, where USA settled for bronze.
A shorthanded goal by Hilary Knight was the first goal for the U.S. After that the American women tried their best to find the net but it wasn't until the final 12.5 seconds. Amanda Kessel scored the second goal in the waning seconds of the game. It was too late and not enough to hold the Canadians, securing one of the greatest victories.
The Canadians finished the tournament with an Olympic-record 57 goals. Earlier, Canada defeated USA 4-2 in the preliminary round. Hannah Brandt barley missed a wide-open goal at the start. The Canadians seemed to take the lead when Natalie Spooner scored from a rebound. But U.S. coach Joel Johnson smartly challenged for an offside and video review confirmed it.
A few seconds later, Sarah deflected Claire Thompson's point shot past goalie Alex Cavallini to take 1-0 lead. Sarah finished as the leading scorer in the Olympic tournament with 5 goals and 17 points. Canada dominated well and limited the chances for the U.S. With just two minutes left in the period, Poulin stole the puck from forward Kelly and finished with her classic shot to double the lead.
USA finished the First-period without any goal in the fourth straight game. Canadian captain scored her second and extended the lead to 3-0. Jenner took a shot which Cavallini kicked right to Poulin, who fired it for the goal. After a great fight, the Americans scored their first to cut the lead to 1-3.
The Americans continued to push but were unable to register a shot. With 12.5 seconds remaining, Kessel broke through by smacking a rebound to make it 3-2. Thereafter, Canadians never allowed the Americans to play the shots on goal and held on to win the game.