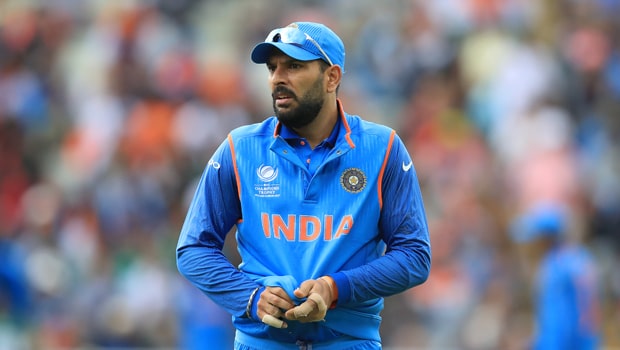 Yuvraj Singh announced his retirement from international cricket in an emotional press conference earlier this month. He talked about various things ranging from his international debut, his fight with cancer, comeback to the Indian team and so on. It was an emotional moment for him and his fans who were equally sad to see him go.
However, he looks all set to begin his second innings as a T20 gun for hire as he was signed up by the Toronto Nationals in the players draft for the second edition of the Global T20 League in Canada on Thursday.
Yuvraj had expressed his desire of playing in T20 leagues during his retirement speech as well, "With BCCI's permission, I would love to go, play and have fun for this year or maybe next year. I don't know what's left in me. It has been a very long and hard journey and I think I deserve that. I have had a word with BCCI and will have another after this announcement. Hopefully, it will be easy sailing for me."
And now it seems that his wish has been fulfilled. Yuvraj deserves to get each and everything he desires just for the numerous joyous moments he has given us. Each of the memories, starting from his six sixes in an over against Stuart Broad during the 2007 ICC World T20 match against England at Durban to his all-round performance that helped India to lift the 50-over World Cup after a wait of 28 years, will always occupy a special place in our hearts. These are memories to cherish for a lifetime, moments that became a part of the golden pages of Indian cricket history.
With him being free of national team commitments now, he will be a highly sought after asset for T20 leagues all over the world. He may be 37 years of age now but he still has a lot left in him as far as T20 cricket is concerned.
The southpaw has a vast experience having played in 231 T20 matches amassing a total of 4857 runs which includes 27 scores of fifty or more. His overall strike-rate of 128.76 seems decent but he is much more dangerous than what these numbers suggest. Out of these 231 matches, 58 have been international ones and 132 have been Indian T20 League matches. While he has scored 1177 runs at an average of around 30 and an overall strike-rate of 136.38 in T20Is, he has made an equally good impact in the Indian T20 League having scored 2750 runs at an average and strike-rate nearing 25 and 130 respectively.
Along with being a dangerous batsman, he is a handy bowler as well. He has a total of 80 wickets in 130 T20 innings at an impressive average and strike-rate of 24.86 and 19.90 respectively. His overall economy rate of 7.47 is fairly decent as well, thus making him a gold-category player for this format.
The Toronto Nationals are just the first of many other franchises that are going to make a move for Yuvraj in the coming time ahead. So, if you were disappointed to see the King retire, you don't have to be! His second innings promises to be equally exciting.
Written by: Prasenjit Dey